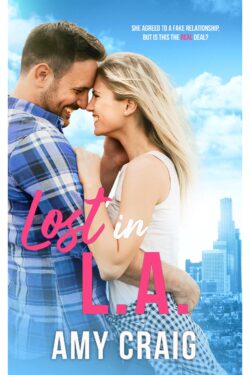 Author

Amy Craig

Release Date

January 12, 2021

Publisher

Totally Bound Publishing

ISBN/ASIN

9781839439391/B08LDNN7DT

Our Rating

Reviewed by

Michele Rioli
Our Review
LOST IN LA is an angst-ridden romantic plot starring a down on her luck damsel, Wylie. She professionally teaches yoga classes along the beach in California. She loses her apartment and takes to living in her car. Fate deals her another tough blow; her car gets towed! Where is she going to live?
She meets a gorgeous guy, Nolan, a food truck vendor, and she spontaneously proposes a profit making deal on his food to make money. Sparks of attraction whiz between them along with a heart stopping kiss. Wow, free food and free kisses, but Wylie halts any romantic entanglements. Now is not the time in her life.
Nolan, who has a generous heart, good looks and is insanely rich, asks Wylie out. But, skittish Wylie isn't ready to enter the man pool. She's working on getting accreditation to be a yoga instructor. When Nolan finds out she needs accommodations, he rents her a room in his big complex and he has roommates. So, Wylie is indoctrinated into living with inflated egos and property issues. Nolan is determined to woo Wylie. Nolan has big dreams for his business and it involves his neighbors. When Wylie meets Nolan's fancy neighbors, she pretends she's his girlfriend. Their attraction is plainly obvious. Despite Wylie's refusals at romance, will they do the mattress tango?
In Ms. Craig's new novel LOST IN LA, a beautiful girl named Wylie, unfortunately has her life implode and knight in shining armor, Nolan, saves the day. The author expertly tackles homelessness, cultural problems and more in this unique friends to lovers story. The author explores flawed characters, unusual perspectives, lifelong dreams, and a challenging romance, which rounds out a compelling love story. I enjoyed Wylie's gumption at being a go-getter and her fierce confidence in finding her way in the world. Nolan is my hero and I loved his unfailing trust in Wylie. The unique flatmates living in Nolan's house adds intriguing depth to the whole story. Will Wylie discover how perfect they are together? LOST IN LA is tastefully sweet, soulfully refreshing and wonderfully sexy!