Lost in the Spanish Quarter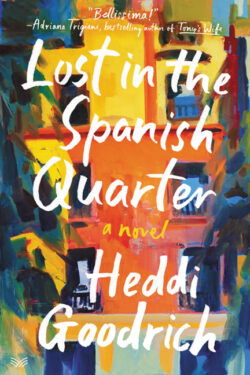 Author

Heddi Goodrich

Release Date

September 10, 2019

Publisher

HarperVia

ISBN/ASIN

9780062910226

Our Rating

Reviewed by

Jo
Our Review
LOST IN THE SPANISH QUARTER is the first book by this author, and it's autobiographical in nature. The story takes place in a run down neighborhood of Naples, as well as a small town in Italy, which is where Pietro's parents still live and farm. It's his legacy, and although he's getting his degree in geology, the land seems to be calling him home.
He and Heddi meet through mutual friends at the university and become friends and lovers. They live together in a rundown, congested apartment with others, and we see the dark side of Naples in many ways. The story doesn't progress much in its telling but takes place in the present as well as four years in the future, after they go their separate ways. Heddi goes to New Zealand and Pietro goes back to his small town to farm—even though they love each other and pledged to live their lives together. They email each other after he reaches out to her four years after they part. The emails, interspersed throughout the story, are enlightening and seem honest in their thoughts, hopes, and dreams, though Heddi's and Pietro's lives are definitely on different paths.
There are a lot of characters, including Pietro's brother, and I don't feel that we get to know any of them well. Many Italian words and customs are used (some of which I could relate to being Italian.) It's hard to envision the way they lived, whether in Naples or in Pietro's small town. Heddi is definitely more adventurous, being an American exchange student in high school, staying to get her degree and never leaving Italy except to go home for short visits. There are a lot of loose ends but some closure when it comes to Pietro and Heddi, through their emails and written words.
It will be interesting to see what the author pens next, although I may or may not give it a try. This was a difficult read for me with a lot of redundancy and very little forward movement for a lot of the story.