Lottie Mae: Silver Dollar Saloon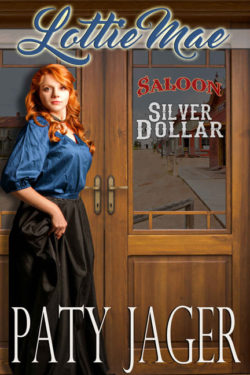 Author

Paty Jager

Release Date

August 25, 2018

Publisher

Windtree Press

ISBN/ASIN

9781947983663

Our Rating

Reviewed by

Jo
Our Review
LOTTIE MAE is the second book in the SILVER DOLLAR SALOON series that takes place in the Dakota Territory, but I hope it won't be the last. With more girls working at the saloon as well as the men who own it, there are definitely more stories to tell. This is Lottie Mae and Manfred's story, and what a story it is!
Lottie Mae works in the saloon, and Manfred's the German blacksmith who wants to learn English better. She was a teacher in her prior life but was shunned due to an incident that happened. 
Their attraction sizzles on the page even though Lottie isn't dating due to a crime committed against her five years before. She's definitely better but still not whole. Manfred is a gentle giant who wants to love again after losing his wife and son during  childbirth.
There are a lot of characters in the story, many of whom we've met before. They each bring something to the story and add to its depth. The story flows nicely, but I often had my heart in my throat due to the violence. There is definitely evil chasing Lottie Mae, but can it be stopped before more damage is done?
The descriptions of the setting and the historical time period made me feel like I was there. I hope that there will be more books in the series.
Ms. Jager has fast become one of my favorite authors of western romances. I can't wait to read what she pens next!