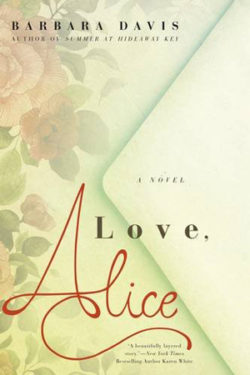 Author

Barbara Davis

Release Date

December 6, 2016

Publisher

Berkley

ISBN/ASIN

9780451474810

Our Rating

Reviewed by

Jo
Our Review
Barbara Davis is a new-to-me author, and I look forward to reading her other books if this is her caliber of writing. My emotions were engaged from the first page to the last with tears and laughter.
LOVE, ALICE is a powerful read that begins in the early 1960s in Cornwall, England at the Blackhurst Asylum for Unwed Mothers. From there we switch to the present day in the early 2000s in Charleston, South Carolina, and then go back and forth between the past and the present. Most of the past comes to us in letters that were written by Alice to her unborn child, and then to that same child who was whisked away from her, sight unseen, to be adopted by a rich family in America.
The letters are heartbreaking, especially since Alice pours her heart and soul into them along with her love for her unknown child. She hopes her search for her baby will end in success. The torment that Alice feels is heartrending, especially not knowing if she has had a boy or a girl, and she hates her mother for forcing her into the situation.  
The story takes many twists and turns, especially when Dovie, who is trying to get her life together after losing her fiance a year ago two weeks before their wedding, meets Alice's mother unexpectedly in a South Carolina cemetery where both have come to grieve. Alice's mother, Dora, has come all the way to America only to find out her daughter had died many years before and never found her child who was taken from her to be adopted. There are many stories going on at once, but all have a bearing on the others, and there are several mysteries to be solved. 
LOVE, ALICE is filled with family and friends. The many secrets add to the conflict, and the letters give the story so much emotion. I found the Charleston social scene fascinating. The story flows smoothly, even going from the past to the present and vice versa. There are a few happily-ever-afters and nice closure, especially given the epilogue.