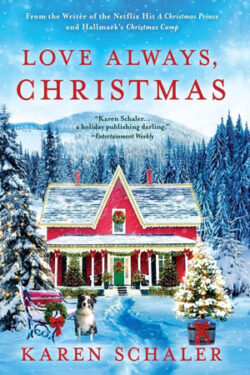 Author

Karen Schaler

Release Date

October 11, 2022

Publisher

HawkTale Publishing

ISBN/ASIN

9781734766189

Our Rating

Reviewed by

Jo
Our Review
Karen Schaler writes wonderful Christmas stories and movies. As I was reading LOVE ALWAYS, CHRISTMAS, I could easily see it being turned into a movie. The descriptions are that vivid, and the holiday romance is wonderful.
There is both an underlying sadness as well as a feeling of hope, happiness, and even second chances as Christmas traditions come alive in small towns. There are many stories being told that work together and add additional layers to this story.
Libby lives in Seattle, and Adam's parents have moved next door. Her first meeting with Adam and some of his parents' inflatable decorations doesn't go very well, but it's funny. As Libby and Adam's paths continue to cross, they seem to rely on each other and even become friends. Could there be more?
I loved the Christmas lists we learn about as well as the new and old traditions surrounding Christmas. Adam's dog is a cute addition to the story and seems to understand everything going on around him. There's great flow and pacing, though there are a few loose ends I would have liked to have seen tied up. The cover is lovely and really conveys the feeling of Christmas.
I've read all of Ms. Schaler's Christmas books and can't wait to see what she pens next. If you love Christmas stories as well as clean, contemporary romances, then this will be a book you enjoy.