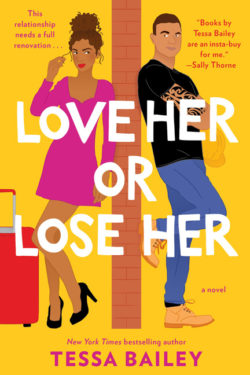 Author

Tessa Bailey

Release Date

January 14, 2020

Publisher

Avon Books

ISBN/ASIN

9780062872852

Our Rating

Reviewed by

Jo
Our Review
LOVE HER OR LOSE HER is a nice continuation of the HOT & HAMMERED series. The story has playful elements, as well as some hot chemistry between the leads. It's also an emotional story between a couple who's lost their connection.
Rosie works at a cosmetics counter spraying perfume all day. Her husband is in construction. They've been together since middle school, and their marriage is in a rut.  Rosie makes a hasty decision to leave her husband without a discussion or having said she's unhappy. He's blindsided and wants her back since he considers her his soulmate and whole reason for living.  
When they start to discuss their marriage by going to a free-spirited, unorthodox therapist, things take an interesting turn. Will they be able to get back together and make their marriage work? Or are they doomed to divorce?
I like that characters we've met before are back again along with some new ones, though this book does stand on its own. Rosie and Dominic have depth, and their love is both apparent yet flawed. The advice of their friends can at times be helpful and oftentimes funny. And the secondary characters add to make it a richer story. 
Ms. Bailey's books have an edge to them. This is her fourth book that I've read, and I've enjoyed them all. A fun, emotional, heartwarming read.