Love on Beach Avenue (The Sunshine Sisters Book 1)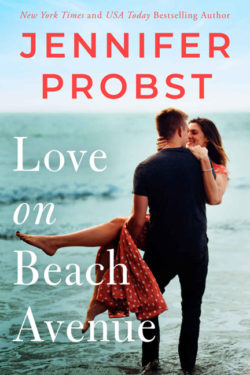 Author

Jennifer Probst

Release Date

May 1, 2020

Publisher

Montlake Romance

ISBN/ASIN

9781542015912

Our Rating

Reviewed by

Jo
Our Review
LOVE ON BEACH AVENUE is filled with all things wedding, given that the Sunshine Sisters own Sunshine Bridal. In addition, Avery's best friend since college wants Avery to be her wedding planner. The downside?  Her friend wants to get married in three months in Cape May, New Jersey, where the bridal salon is—and summer is their busiest season. 
But what are best friends for? Avery lets her sisters know that she'll handle everything not knowing that her friend's older brother (and only remaining family) intends to be involved in the planning every step of the way.
I love Carter's relationship with his sister. They understand each other. At eighteen, he had to raise her, a ten-year-old, due to their parents' passing, and both their worlds were turned upside down.
I loved how we were immersed in all the wedding planning—so different from when I got married almost 39 years ago! There are a lot of discussions and arguments when Carter and Avery are left to narrow down the choices for Carter's sister, who's busy helping her fiance's mother in Texas. Avery and Carter have real chemistry, especially when he decides to stay in town. When things heat up, they really heat up.
What a great start to the new series, THE SUNSHINE SISTERS. The story flows nicely, and the descriptive scenes of wedding planning and Cape May, New Jersey, add so much to the feel and flow of the plot. Carter's dog steals the show in many scenes, as does Avery's niece. There are quite a few story lines going on, and they are woven seamlessly together. There is nice closure with the epilogue that gives some hints of what's to come. I look forward to reading the next book in the series, TEMPTATION ON OCEAN DRIVE.
Ms. Probst is an author whose books I enjoy.  Her writing is reminiscent to me of books written by Susan Mallery, Jill Shalvis, and Samantha Chase among others.