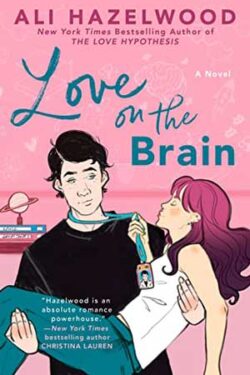 Author

Ali Hazelwood

Release Date

August 23, 2022

Publisher

Berkley

ISBN/ASIN

B09PQFL2J7

Our Rating

Reviewed by

Fiona
Our Review
Dr. Bee Konigwasser has decided that she will love only science—neuro-engineering, to be exact, after her fiancé broke everything off right before the wedding a few years ago. But when she gets assigned to work with a NASA engineer on a special project, she's shocked to learn he's the same man who hated her back when she was a grad student. Now what? Can they work together, even if he despises her? But what if he doesn't?
Bee adores Marie Curie and tries to live her life like the famous scientist would—only without the exposure to radiation. (The humor in this book is like that, appealing to your intellect.) She's still dealing with the same attitudes toward females in STEM fields that Curie dealt with over a hundred years ago. But science would never destroy her heart like a man once did. She's sworn off men for good, or has she?
I was a bit off-put by the misunderstandings that kept the heroine and hero apart when a good long chat would have cleared everything up. But I understand it was part of the story. And at least I only had to wait until about 2/3 of the way through the story for them to begin acting like adults. And being ultra-nerdy scientists, I guess it's to be expected that they wouldn't be brimming with people skills. By then, the steaminess of their romance almost melted my fingers holding the book.
(He tells me,) "I'm a good girl, I'm perfect. I've been driving him insane, when he first saw me I changed the chemistry of his brain."
Sigh. I love this book! If you like intelligent people, with quirks aplenty (including Bee's purple hair and her grad assistant's emo-obsessions,) then you'll love this book!