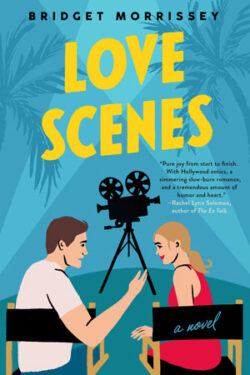 Author

Bridget Morrissey

Release Date

June 22, 2021

Publisher

Berkley

ISBN/ASIN

9780593201152

Our Rating

Reviewed by

Michele Rioli
Our Review
LOVE SCENES is full of raw emotions, real tender moments and an irresistible romance. It stars a stunning actress, Sloane Ford, who is currently unemployed after her hit TV series killed her off. Her famous family needles her into acting in a starring role in the current film they are shooting. She refuses but then is hired as a producer. When the lead actress is fired, she is talked into starring opposite Joseph Donovan, hunkalicious movie box office star. He is big trouble, irresponsible, and annoying. However, Sloane's heart ping pongs all over the place when he is near. Oh no, this is not good.
Joseph Donovan is too handsome for his own good. He promises Sloane that he is a changed man when they are slated to work together. That remains to be seen. Rehearsing lines with Joseph brings out the cattiness in her. Sloane can't seem to forget how terrible he was to her on a past film. But, Joseph is determined to prove how sorry he is for his past mistakes. While Sloane grapples with an ex-boyfriend's cutting remarks that cut to the core, she maturely acts with aplomb with Joseph while filming. Spending time with him is proving dangerous to her heart, stirring up emotions and sparks of attraction. Plus, Joseph is filled with admiration and love for Sloane. Being near her stirs him up and he likes how she makes him feel. Is he falling in love? Will they ultimately do the mattress tango?
LOVE SCENES is filled to the hilt with Hollywood gossip, complicated characters, and a surprising romance. It's set against a Hollywood background with complex family problems, a disgruntled actress, Sloane, and a troublesome actor, Joseph. Ms. Morrissey pulls out all the stops with this over-the-top, will she or won't she fall in love, romance. Absolutely loved it! Sloane is hurting emotionally from abandonment issues. I wanted to hug her and be there for her. Although, Sloane's sister wonderfully stabilizes her when they get together. I loved the slow sizzling romance between Joseph and Sloan as they discover the magnetizing force when they are together. This is definitely a swoon worthy Hollywood love story. LOVE SCENES is refreshing and scrumptious, like a delectable, drippy ice cream cone on a hot summer day!