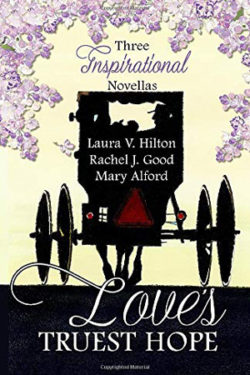 Release Date

May 28, 2019

Publisher

Celebrate Lit Publishing

ISBN/ASIN

B07Q5YDQ8X

Our Rating

Reviewed by

Jo
Our Review
LOVE'S TRUEST HOPE is an anthology of three Amish stories from three different authors, two of whom I've previously read. There are different settings and stories but all have their faith, their families, friends and community at their core. I look forward to reading more books by each of these authors.
MISSION OF LOVE by Laura V. Hilton moved at a fast pace but seemed disjointed to me since there was so much going on that didn't always seem to have a purpose.  Twins, Lucinda (or Cindy as she prefers to be called) and Linda could not be more different. Cindy is the responsible one—always doing the right thing, helping her family, being there for others. Linda is always looking out for herself, cutting corners, doesn't tell anyone where she's going and likes things she shouldn't, being Amish. Jason (Jace) returns from doing missionary work and has to reconnect with his family, though he doesn't plan to stay. He falls for Cindy after running into her, and the feeling is mutual although she can't believe he's really attracted to her and not her twin. They keep getting thrown together, and I liked how their feelings for each other evolved. The bishop is hard to like and was mean spirited but I liked how Cindy's daed (dad) supported her. Just the way the bishop says her name annoyed me—Lu-Sin-da, with the stress on Sin! I loved the way the Amish always rally around each other in support when someone or a family member needs it. The story ends abruptly with a happily ever after.  An epilogue would have tied up some of the loose ends, of which there were many, and given me the closure I wanted.
I have previously read one of Ms. Hilton's short stories in LOVE'S CHRISTMAS BLESSINGS and enjoyed it.
http://booksbylaura.blogspot.com/
BID FOR LOVE by Rachel J. Good was a wonderful read that held my interest from the first page to the last.  Marty is a caring young Amish man, especially when compared to his two friends. He seems to always want to do what's right and give help to others while his friends prefer to do as little as possible. When their donated day of landscaping is auctioned off for a very high dollar amount, none of them know what to expect. They're surprised by not only where they will be spending their day but also who lives in the house. They briefly met Isabella and her granddaughter, Olivia, who are Englisch, at the auction but don't know who they are. When they meet again, things get out of control fast. 
There are unexpected twists and turns and a lot of clues to sift through when Isabella asks Marty for his help at a lot more than landscaping. Olivia is totally clueless on what her grandmother is up to, who she really is, and how she was raised. Although there is a happily ever after as told in the epilogue, which takes place three years later, there are still some loose ends regarding Olivia's grandmother. I hope we meet up with these characters again to give me the closure I need and we see how their lives turned out.
I've enjoyed many books by Ms. Good, who is fast becoming one of my favorite authors of Amish fiction. I look forward to reading more of her books.
http://racheljgood.strikingly.com/
PLAIN REDEMPTION by Mary Alford was a wonderful story by a new-to-me author. I hope to read many more of her books. There were so many heartfelt moments of love as well as fear and despair. I didn't expect the book to take place in Montana, but I was drawn in to the story immediately. How much pain and sorrow can one family endure?  Lyddie lost her husband in an accident and had another personal loss, which no one knew about until she finally told her husband's brother, Thomas—her first love. When Thomas returns home to help his family, the attraction is still there but each thinks it's one-sided. The story has both heartwarming and heart-wrenching moments along with a mystery to be solved. I liked how Thomas supported both his mother and Lyddie throughout the ordeal, as well as how the doctor and police acted to solve the mystery.
The characters have a depth to them, and so does the story. There is a nicely played out happily-ever-after as well. I would love to be reunited with the characters and their community again.