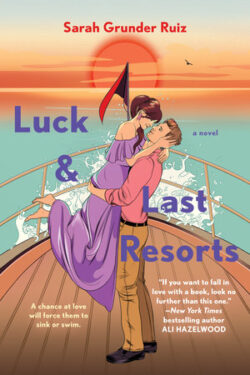 Author

Sarah Grunder Ruiz

Release Date

August 9, 2022

Publisher

Berkley

ISBN/ASIN

9780593335444/‎B09LH7P5P8

Our Rating

Reviewed by

Michele Rioli
Our Review
LUCK & LAST RESORTS is a turbulent and intimate romance between two complicated, passionate soul mates. Nina LeJeune is a gorgeous former gymnast, whose career ended with a knee injury. Also, her trust was shattered by someone close. Therefore, relationships aren't her specialty. However, she meets a dashing, dazzling chef, Ollie Dunne, on a charter yacht, Serendipity, in her new job as a stewardess. Ollie is originally from Ireland and has many emotional scars. He left home determined to make a new life in the United States. Nina and Ollie have shared history, with flames of passion sizzling under the surface. Only trust issues keep them apart.
There's a chance at love on the high seas between Ollie and Nina. If the wind is just right, they might find tranquility. Will they sail away to paradise or are their hearts to scarred too everlasting love?
I laughed, cried and cheered on Nina and Ollie's knotty reunion, in Ms. Ruiz's new book, LUCK & LAST RESORTS, on board a huge yacht. Ollie and Nina are two sarcastic, exhausted souls who really like each other, despite to the contrary. Their jobs aboard the yacht keep them very busy. However, Ollie wants answers. Does Nina love him enough to commit? The question is, will she or won't she? Their shared past puts them in close quarters, literally and figuratively. This is a unique romance of friends with benefits. Ms. Ruiz pulls out all the stops in this high seas adventure. There is laughter, raucous scenes, secrets, and more, as the guests aboard the ship, ship mates and the captain combine to throw Nina and Ollie together forever. Will they succeed? LUCK & LAST RESORTS is a hunk of burning love on fire!