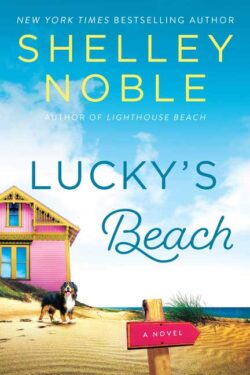 Author

Shelley Noble

Release Date

June 30, 2020

Publisher

William Morrow

ISBN/ASIN

9780062953544

Our Rating

Reviewed by

Jo
Our Review
LUCKY'S BEACH is a beach read with some elements of romance. But it's mostly a mystery filled with intrigue. Julie and her teacher friends, Aggie and Kayla, always vacation for ten days at the beach after school ends. This year is no different, although Julie is having a lot of doubts regarding her teaching career. When her mom hasn't heard from Julie's uncle for his weekly call, she asks Julie to detour to Lucky's Beach since it's not too far from their vacation site. Little do any of them know what they are going to find and how it will change their plans.
While her friends are having fun, hanging out with the locals, boating, and going for drinks, Julie is worried about her uncle and her career. None of the townspeople are what they seem, and she and her uncle's bartender, Scatter, have an attraction that both are fighting for different reasons.
Julie keeps sticking her nose where no one wants it, and her uncle, once he turns up, is really conflicted about what he should do. One minute he wants her to stay and the next he wants her out of danger. Scatter is not what he seems either. He has a depth and kindness to him that Julie never expects.
There are loose ends in this book, although it's a standalone novel, so I didn't get the closure I wanted. It's hard to determine if there will be a happily ever after.But all in all, LUCKY'S BEACH is an enjoyable beach read.