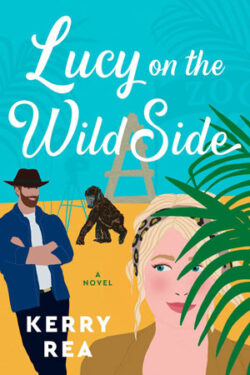 Author

Kerry Rea

Release Date

September 13, 2022

Publisher

Berkley

ISBN/ASIN

9780593201862/B09NLPM2PP

Our Rating

Reviewed by

Michele Rioli
Our Review
Astonishing, amusing, and intriguing, LUCY ON THE WILD SIDE, is a must read! I fell in love with kooky, khaki-loving, Lucy whose life is dedicated to caring for gorillas. She is a primatologist and works at a zoo caring for a gorilla troop. Her main goal is to be head keeper someday. In her down time she watches reality TV with no time for a boyfriend and she's happy with her life. Or is she?
Along comes hunkalicious Kai Bridges, a famous TV show host and the son of her role model. He and his production team visit the zoo to spear head a new docuseries of the gorilla troop. Only, Lucy and Kai clash big time, arguing along with snarky, sarcastic comments. However, they have to work together and they learn to accept being in close quarters, with their faults, quirks and everything in between. Lucy's fear of public speaking is paralyzing and Kai comes to the rescue. They realize that they are of the same breed, with traumatic pasts, emotional pains and discover they actually are more compatible than they first thought. Do they succumb to the wild side?
This is such a cute, likable, little bit spicy story! I was hooked from the start as LUCY ON THE WILD SIDE is a dramatically different kind of romance novel. I love stories with animals, but gorillas are a totally different kind of breed. I learned so much about them in Ms. Rea's book. I went in thinking it would be hard to read, but actually the story flows beautifully along with many nuances, witticisms, sparkly humor, and of course, a winning romance. I definitely wondered how it all would work out between Kai and Lucy. The author brilliantly paces the story, infusing tension, adding surprising subplots, and a blooming romance when you least expect it. Lucy and Kai both learn much about themselves and their pasts, as they work side by side. LUCY ON THE WILD SIDE sparkles with life like champagne. It's bubbly, whirling and shooting stars!