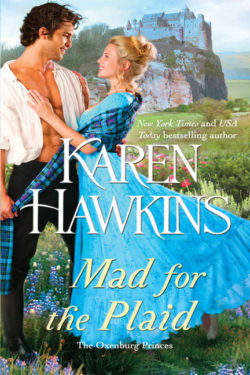 Author

Karen Hawkins

Release Date

August 30, 2016

Publisher

Pocket Books

ISBN/ASIN

9781476786018

Our Rating

Reviewed by

Dottie
Our Review
In her father's absence, Alisa MacKenzie is left in charge of the family estate. She has worked hard to gain the respect of her people, but now she faces a huge challenge. Her grandmother's guest, the Grand Duchess of Oxenburg, along with their neighbor, Lord Hamilton, disappeared after leaving Castle Leod for his home, Caskill House, and never arrived there. Finding their abandoned coach and a bit of blood makes her fear for their safety. Alisa will do whatever it takes to get them back. She has a plan in place and though she sent a note to the duchess' grandson, the Prince of Oxenburg, she expects no help from that quarter. So she is surprised when his men arrive, informing her that the prince is at home in his sickbed, and they have come to assist in finding the prince's grandmother. But there is something not quite right about the groom who accompanies the prince's men. However, it is the attraction he stirs within her that affects her more.
When Nikolai Romanovin, Royal Prince of Oxenburg, receives the news that his grandmother has disappeared, he wastes no time in travelling into the deepest wilds of Scotland to find her. With foreign negotiations in the works, Nikolai cannot let anyone know that he has left the country. So he travels to Scotland disguised as a groom with some of his men. But from the moment he meets Alisa, all his plans go awry.
Alisa sneaks out in the early morn to carry out her plan, but Nikolai soon catches up with her and her men. Noticing the groom's highly educated, arrogant demeanor, as well as his less than servile behavior, and understanding unruly relatives like her own grandmother, she confronts Nikolai and finally gets the truth. Before long the two reach a tentative agreement, although how they will carry out the rescue, once they arrive at the site where they are supposed to bring the ransom, has still not been settled. As they venture across Scotland to meet with the kidnappers, passion flares between Alisa and Nikolai amid heated kisses and growing respect for each other. When the trip turns dangerous, Alisa and Nikolai are left to discover the identity of their unknown enemy, even as they wrestle with their own feelings for each other. Will they be able to rescue the duchess and Lord Hamilton? Will they survive to have a future together, or will the mission spell the end of any dreams of a future together?
An action-packed tale, MAD FOR THE PLAID, the third book in author Karen Hawkins' THE OXENBURG PRINCES series, is a clever, suspense-filled historical romance that readers will find hard to put down. Nikolai starts off a bit spoiled. After all, he is a prince and used to having everything his own way and everyone doing things for him. But as the story unfolds and he is forced to help during their rescue mission, he evolves into quite the romantic hero. Alisa is portrayed as being quite plain with a prominent nose, but as she is seen in later scenes through the eyes of love, she is portrayed as being beautiful. There is definite chemistry between him and Alisa and their banter is delightful and often quite humorous.
An extremely gifted storyteller, Ms. Hawkins brings the story to life right before your eyes. Kidnapping, betrayal, danger, mystery, passion, romance, love, laughter and a rescue mission into the wilds of Scotland combine for a story that is sure to thrill fans of historical romance. Although this book can be read as a standalone, I recommend also reading the two previous books in this series, including THE PRINCE WHO LOVED ME and THE PRINCE AND I, as well as the novella, THE PRINCESS WORE PLAID. Treat yourself to a copy of MAD FOR THE PLAID today and be transported to another place and time in Karen Hawkins' deliciously romantic world.