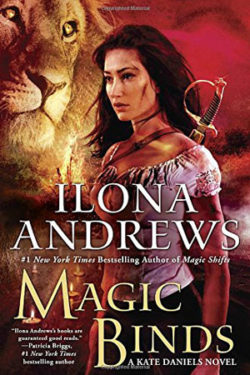 Author

Ilona Andrews

Release Date

September 20, 2016

Publisher

Ace

ISBN/ASIN

978-0425270691

Our Rating

Reviewed by

SJ
Our Review
MAGIC BINDS by the extremely talented writing duo of Ilona Andrews is the ninth book in the Kate Daniels urban fantasy series. And it's amazing! From spot-on pacing to evolving characters and incredibly rich and vibrant world-building, this series just keeps getting better. It's a definite keeper. I cannot rate this book high enough. 5+ Hearts!
Just when Kate and her lover, Curran, the former Beast Lord, are finally getting on with their lives and planning their marriage, a prophecy gives some really, really bad news. If Kate marries the man she loves, he'll die and the city of Atlanta will burn. Or her future son will die, and Atlanta will burn. The news just keeps getting better. But Kate has never let supposed destiny stop her from living her life, so she plans her wedding and starts making big plans involving all sorts of gods, death angels, and monsters alike.
To make matters worse, her father Roland–a god-like man with massive power–is playing dominance games. He captures Saiman, a citizen of Atlanta–Kate's domain–clearly challenging her to act. But she's nowhere near ready for an all-out war with a god. Then there's the fact that her own power is beginning to change her, and it's scaring her friends and Kate herself.
There's so much action going on that it would be easy for Andrews to concentrate on the what without so much the how. Yet Ilona Andrews brings us so much more in the growing characters of Kate Daniels, Curran, and those closest to them. Roland gets more depth as well, a villain who's oddly likable when he's not trying to demolish millions of innocent lives. And just when you're starting to like him, things happen, and you hate him all over again.
Kate has to come to grips with who she is and who she wants to be, and in the doing she'll set off a chain of events that will shock the world.
This book had it all: laugh-out-loud humor, adventure, magic, romance, and danger. The reader is never left wanting or waiting very long before something new challenges the protagonists to act and react.
There are a few twists for Kate and a few for some secondary characters that set up some amazing future scenarios. I particularly hope Andrews continues with Kate's aunt, who added so much fun to the story. The City Eater deserves a book of her own, and talk about snark. She added plenty of dark humor to the story and kept Kate grounded as well.
I eagerly await the next installment in the Kate Daniels series. The books are best read in order, to get the most enjoyment out of them. But you absolutely cannot go wrong with anything Ilona Andrews writes, and MAGIC BINDS is no exception. An incredible journey that just keeps getting better. (And please, let Roman officiate all future weddings in the Kate Daniels world. He just crushes it!)
A RECOMMENDED READ! I would give this 10 hearts if I could.