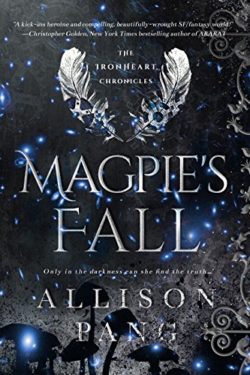 Author

Allison Pang

Release Date

July 16, 2018

Publisher

Allison Pang

ISBN/ASIN

B07F6TZ6Z8

Our Rating

Reviewed by

Raonaid
Our Review
Raggy Maggy, aka Magpie, sacrifices herself to be the Tithe, a Moon Child chosen to lead the Rot-suffers down into the Pits. While there, she plans to investigate the origin of the disease plaguing the BrightStone populace. Nothing prepares Maggy for the dangers awaiting her down in the underground caves. She searches for tangible proof of the Rot's true purpose to bring back to her Rebellion comrades. Maggy must wait and survive in the labyrinthine caverns until her friends come to her rescue.  What secrets are hidden in the Pits? Will Maggy finally learn the truth about her enigmatic iron heart?
Maggy continues to be a fun and interesting character. I love her realistic outlook. Maggy understands she must rely on her own wit and canniness to escape, instead of waiting around to be rescued. I also like how she refuses to admit defeat. She never once stopped searching for a way out of the Pits. But what I admire most about Maggy is her conviction to her friends, especially Ghost, no matter how bleak or dire her circumstances became. Thoughts of being reunited with Ghost helped give Maggy the extra strength to continue surviving in the Pits.
MAGPIE'S FALL is book two in Allison Pang's dystopian-steampunk series, THE IRONHEART CHRONICLES. The story immediately picks up where MAGPIE'S SONG, book one, leaves off. The only complaint I have is that I wished the author explored Ghost's point-of-view without Maggy in a chapter or two interspersed here or there. I really missed him.
MAGPIE'S FALL is a spell-binding tale of one's stubbornness to survive no matter the costs. I love how the author delves into another aspect of her interesting world. I cannot wait to read Maggy and Ghost's adventures in Meridion.