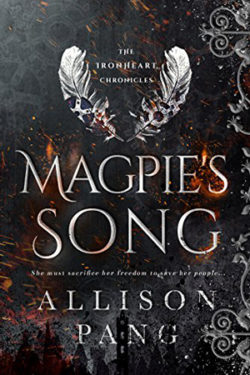 Author

Allison Pang

Release Date

August 8, 2017

Publisher

Allison Pang

ISBN/ASIN

B072MNKBYV

Our Rating

Reviewed by

Raonaid
Our Review
Raggy Maggy, aka Magpie, is a Moon-Child, a supposed unwanted child of a BrightStone woman and a Meridian male. She collects scrap in the desolate wastelands of the Warrens for her clan. Maggy stumbles upon a strange clock-work dragon and a dead Meridian male. The dragon's presence heralds all kinds of changes for poor Mags. When her clan exiles her, she has no alternative but to agree to her saviors' mad plans of sneaking down into the Pits, a dark place where the Rot-infected people are placed. Can Maggy find the truth behind the peculiar plague's existence? Or will Maggy lose more people she cares about before the journey begins?
Maggy is quite the unorthodox, yet interesting, character. I love how she refuses to allow the pariah status associated with her kind to have any real power over her. Maggy proves continuously through the book she's capable of thinking for herself. She tends to consider angles her companions would never consider. I love her wily cleverness. I enjoy Mag's interaction with Ghost, and I cannot wait to see the direction their relationship takes in future books. But what I admire the most about Maggy is her tenaciousness in both the things she puts her mind to and the people she cares about.
MAGPIE'S SONG is book one in Allison Pang's brand new, self-published series, IRONHEART CHRONICLES. The story starts out rather slow, which is necessary for the author to properly set up the world and the characters. I like how the story is written in Maggy's point-of-view. It did take me some time to adjust to Maggy's distinct narrative.
MAGPIE'S SONG is a dark dystopian story with a balanced mix-mash of steampunk and fantasy. I enjoyed the uniqueness of the author's world, especially the details she intricately wove into the tale. I cannot wait to delve into more of Maggy's adventures.