Make Me Burn (Turn Up The Heat Book 1)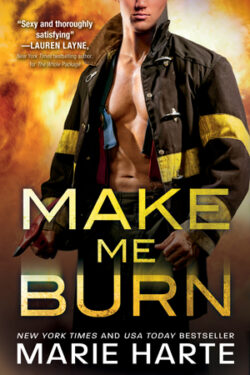 Author

Marie Harte

Release Date

May 25, 2021

Publisher

Casablanca

ISBN/ASIN

B08G8Z34H9

Our Rating

Reviewed by

BPoston
Our Review
Avery Dearborn is a reporter on location doing a human interest story on pets up for adoption. She wants to help the local rescue shelter find forever homes for all the furbabies so is doing a live spot for the local community news streaming service. What she did not expect to have happen is have a dog express his love for her leg while on camera. How mortifying. What she really did not expect is to have Brad Battle, local Seattle firefighter, come to her rescue. She did a great story on him years before, but instead of thanking her, he treated her like pond scum.
Brad is not happy to see Avery. She exposed his life to the public during a time when he was just trying to get it together after leaving the military. When he turned down her requests for an interview, she went behind his back and talked with his family to get her story. This was unacceptable.
The Seattle Fire Department is a sponsor of the animal rescue shelter, so when the live spot showing Brad rescue Avery from her canine romeo goes viral, it is strongly suggested by both her organization, the fire department, and the shelter to have the two of them do a live spot every Friday highlighting pets up for adoption. This sounds like fun but when you have two people who don't like or trust each other and are forced to be civil to each other, it leads to some interesting filming. They have mad chemistry together, but is it just animosity, or is there a real attraction underneath? I couldn't wait to find out and I bet you can't either.  
Marie Harte creates characters who are fun, smart, strong, and a bit quirky. MAKE ME BURN is a great summer read!
Recommended Read