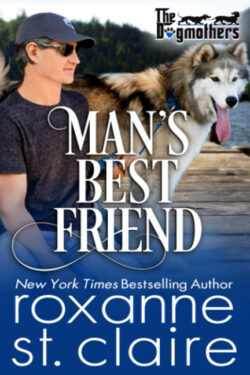 Author

Roxanne St. Claire

Release Date

September 25, 2020

Publisher

South Street Publishing

ISBN/ASIN

B08DYG652Z

Our Rating

Reviewed by

Raonaid
Our Review
Captain Declan Mahoney is a firefighter for Bitter Bark, North Carolina. He is the oldest Mahoney child and the nephew of the town's infamous Dogfather. Declan regrets withdrawing from Evie Hewitt after the unfortunate death of his father twenty years ago. Now that she is back in town, he intends to reconnect with her. Luckily, a dog surrendered at his station gives Declan an opportunity with his pursuit, along with the meddling machinations of two octogenarians. Will Declan finally have closure on his father's death? Can he make right on decade-old promises?
Dr. Evangeline "Evie" Hewitt is the sixth generation of Bitter Bark's founding family. She is also a highly-skilled veterinary neurologist and the head of NC State's Veterinary Neurology Department. Evie takes time off work to return home to help her ailing grandfather. While running an errand, she encounters Declan and his four-legged companion. Evie recognizes a medical problem with his canine friend and offers her assistance. Can Evie forgive Declan for shutting her out twenty years ago? Or will the past continue to stand in their way?
Declan is such a sweetheart. I love how family-orientated he is. Declan willingly steps up to be there for his mother and siblings after his father's death. I like how he makes certain to get what the dog Judah needs to heal properly. Not many people would do that for a dog, especially one that is not their pet. What I admire the most about Declan is his ability to admit when he is wrong. He knows he must apologize to Evie for his cold treatment toward her.
Evie is such an inspirational person. She put all her energy into achieving her goals despite her heartache. She understood that Declan needed to come to terms with his father's death on his own. I love Evie's down-to-earth personality. She may be from a prominent family and a highly sought-after veterinary neurologist, but she never behaved as if she is better than others. What I adore the most about Evie is her dedication to her family's lineage. She willingly shares her family's mementos with the community.
MAN'S BEST FRIEND is book five in Roxanne St. Claire's canine-themed contemporary romance series, THE DOGMOTHERS, a spin off from her DOGFATHER series. I recommend reading the prior series and the previous books and novellas before embarking on this story. They help set up the three families' heartwarming dynamics. It is great to see how Gramma Finnie and YiaYia rub off on each other. The latter is softening while the former is getting more outspoken.
MAN'S BEST FRIEND is a cute and heart-warming tale of two people's second chance to put things right. Roxanne St. Claire always writes such endearing stories. I cannot wait to see which Santorini, Nick or Theo, is next for the matchmaking Dogmothers.