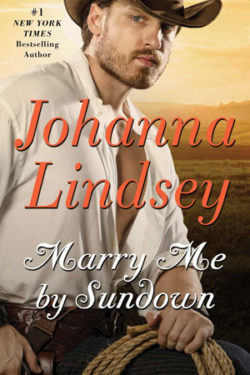 Author

Johanna Lindsey

Release Date

July 10, 2018

Publisher

Gallery / Simon & Schuster

ISBN/ASIN

1501162233

Our Rating

Reviewed by

Raonaid
Our Review
Morgan Callahan is the second son of a well-known cattle rancher in Montana. He leaves his family's home to make his own fortune mining for silver. Morgan suspects the pretty blonde sniffing around town for information as being a spy for his competition. To learn the truth about her identity, he kidnaps Violet Mitchell and whisks her back to his hidden mine. The bossy woman soon worms her way into Morgan's affections. Will Morgan lose his silver mine to his cutthroat nemesis? Or will Violet be beneficial for achieving his final goal?
Violet Mitchell is an American heiress living abroad in England anticipating her first season. She returns home to Philadelphia after receiving an urgent letter from her older brothers. To save their family home, Violet travels to Montana to search for their errant father. She is ill-prepared for the fierceness of the Wild West and its people, especially her father's broody, bear-like partner. Can Violet save her brothers from financial ruin? Or will she lose her heart to the stoical Morgan Callahan?
Morgan is a man with a heart of gold, who believes actions speak louder and bolder than words. I love how at first, he comes off as broody and testy until he finally warms up to a person. Then his true personality shines through. I adore Morgan's little acts of kindness towards Violet and her father Charles. He did not have to help either father or daughter, but he did it regardless, showing his benignancy. I only wish the author delved more into his point-of-view. It felt one-sided getting only the heroine's perspective.
Violet is a determined woman, who strives to achieve her dreams no matter the roadblocks. She steadily grew on me throughout the story. I admire Violet's fortitude, especially when she unselfishly puts her plans and dreams on hold to help her family. She comes across as the more responsible and mature one in the Mitchell family. I love how Violet needles Morgan in the start of their association. Their opposite personalities and upbringing clashed, but soon the two found common ground. The only problem I have with Violet is how long it took her to realize her feelings for Morgan.
MARRY ME BY SUNDOWN is book three in Johanna Lindsey's western-romance series, CALLAHAN-WARREN. This story can stand apart from the prior two books in the series. I love how the plot and storyline transported me back to my teen years when I used to read ANGEL and BRAVE THE WILD WIND during study hall. I am glad the author's writing style in this genre has not changed over the years.
MARRY ME BY SUNDOWN is a fun romance full of adventure between two strong-willed and determined souls, both striving to reach their individual dreams. I am a longtime fan of Johanna Lindsey's books, so it came as no surprise that I could not put this book down. I hope this is not the last we hear about the Callahan and Mitchell family.