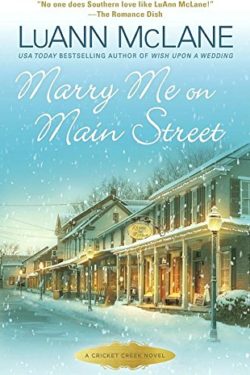 Author

Luann McLane

Release Date

December 6, 2016

Publisher

Berkley

ISBN/ASIN

1101989823

Our Rating

Reviewed by

Dottie
Our Review
In high school Susan Quincy had been a shy girl with an occasional stutter problem. She had a crush on Danny Mayfield, so she was thrilled when he asked her to the prom and she has never forgotten the kiss they shared that night. However, discovering that it had just been a pity date had embarrassed and humiliated Susan, so for the past ten years she has gone out of her way to avoid him, which is not easy in the small town of Cricket Creek. Now, ten years later, he comes back into her world again when he comes to her rescue. As the owner of a shop that sells handmade gifts and repurposed items, Susan comes across a beautiful rocking chair at an estate sale. But she loves it so much she is unable to sell it. She longs to obtain more rocking chairs like this one, but first she must find out who made it.
Although Danny originally asked Susan to the prom as a favor to his mom, he discovered a different side to Susan, one that appealed to him very much during the date. He has wanted to date her again, but she always seems to avoid him. After his father became ill, Danny joined his sister and older brother in taking care of their family's marina. In fact, he works three jobs since he also helps his siblings with their businesses, at a bistro and a bar. He has been woodworking as a hobby, but he would love to turn it into a business, if he could find the time, but he can't let his family down. Lately, Danny has felt quite lonely as both of his siblings have married and have children. With the holidays approaching, he feels lonelier than ever. When he runs into Susan again, he is hopeful that she will give him a chance to get to know her better. Seeing one of the chairs that he made in her apartment and her love for it gives him hope. When she discovers that he is the woodworker, she requests that he make more rocking chairs for her shop. Will his love for his handicraft and Christmas magic give him the future he longs for, a future with Susan?
A charming tale, MARRY ME ON MAIN STREET, the eleventh novel in USA Today bestselling author Luann McLane's CRICKET CREEK series, is a humorous, passionate contemporary romantic comedy set in the South. This uplifting story quickly draws you in and before long, you feel as if you know the characters personally. I enjoyed watching Danny and Susan work through their misunderstandings as they got to really know each other. There is definite chemistry between them. Besides their romance, there is a secondary one that develops between her feisty, older employee, Betsy, who is struggling with empty nest syndrome, and John, the owner of the nearby diner who is rebuilding his life after a divorce.
Christmas, humor, family dynamics, passion, small town romance and love intertwine in this story, putting readers in a holiday mood. This is the first book of this series that I have read, so I can assure you that this book can be read as a standalone. However, reading this novel may leave you with a longing to read more of this collection. A sweet story with a heartwarming plot, it is perfect for the holidays!