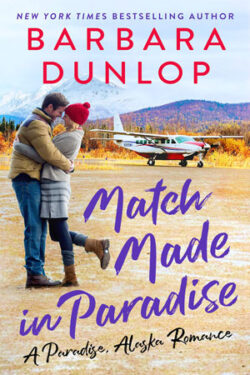 Author

Barbara Dunlop

Release Date

May 25, 2021

Publisher

Berkley

ISBN/ASIN

9780593332962

Our Rating

Reviewed by

Michele Rioli
Our Review
Full of heart, irresistible and spicy, MATCH MADE IN PARADISE is a fantastic feel good story. Brawny, muscular pilot Silas Burke flies a lovely blonde babe into Alaska, home of wild animals, frigid temperatures and rugged terrain. What's a supermodel doing hiding out in this neck of the woods? Silas has a hunch Mia is trying to leave the paparazzi behind but why here? He bets she won't last long in this harsh climate. To his surprise, Mia struggles on her feet but finds her mojo in a place he least expects and that's his hometown. Silas has trouble denying his instant attraction to her but does Mia feel the same?
Mia Westberg, a sizzling hot, blonde supermodel, needs a place to lie low. Her celebrated fashion designer husband dies and she inherits his company. Just her luck, because his kids and ex-wife resent her. Between unscrupulous family members, paparazzi and fans hounding her, she flees to the farthest corner of Alaska and stays with her cousin Raven. Raven works in shipping for an airline and has room for Mia at her place. Hopefully, Mia can find some semblance of peace or will she?
However, on her plane ride there, bush pilot Silas, intrigues her. He might be bristly and brusque but he sure is one handsome hunk! Mia is interested in helping out while there, but Silas isn't happy to have her underfoot, since she doesn't have experience. Surprisingly, Mia soon shows her mettle under Silas' tutelage but they keep bumping heads. Will they succumb to temptation or will they freeze each other out?
MATCH MADE IN PARADISE is a wild ride with unsuspecting natural events, powerful personalities and surprising romantic entanglements. A gorgeous supermodel, Mia and a macho bush pilot, Silas, become a hot item in the wilds of Alaska. This is a funny, fast-moving, smart-alecky story with lots of heat. Densely populated with male testosterone, guys galore, and Alaska's unique wilderness, makes for a lively entertaining novel. The author expertly relishes detailing bush pilot tips and experience at handling a plane. I didn't realize all that goes into caring for planes and the expert precaution taken at preventing accidents. There are numerous subplots and characters, so I can't wait to read the next story in this series! MATCH MADE IN PARADISE is definitely macho driven with a lot of hot tamale on the side!