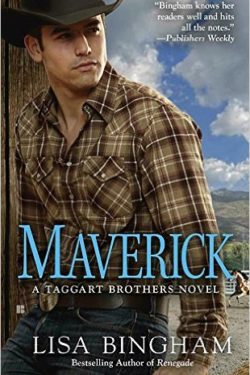 Author

Lisa Bingham

Release Date

Publisher

Berkley

ISBN/ASIN

0425278581

Our Rating

Reviewed by

Chrissy
Our Review
Bodey Taggart is a bit of a daredevil by nature. He thrives on the thrill of adventure, however, his recent concussions have sidelined his activities and he's not quite sure what to do with himself.  Fortunately he's still allowed the thrill of engaging in shooting competitions and it's for that reason that he's present at the Hell on Wheels events.  Beth Tivoli isn't into the period dress and good time atmosphere the Hell on Wheels shooting extravaganza is known for but she needs the paycheck and that's why she's employed by Bodey's friend, Helen at one of the tents. 
Bodey and Beth first meet when one of his migraine headaches overwhelms him and she comes to his assistance. Brody's always been a bit of a ladies man so of course he's instantly captivated by Beth; however she's doing everything in her power to keep him at a distance.  It's not because she's not interested in him, it's simply because her life is rather complicated and she can't risk any sort of distraction or to become attached to any man when her own life is in complete chaos.  Sometimes love happens when it's least wanted or expected – and if Bodey thought falling in love would be subtle he's in for a surprise because loving Beth is going to be the most thrilling adventure of his life.
I'm woefully in love with the Taggart brothers so definitely bummed that I somehow missed the first two titles in this series. Lisa Bingham's writing brings Bodey to light in a delightfully playful way and allows readers to feel Beth's tension as the weight of her own personal situation is revealed to us.  Together they're a great couple and seem to balance each other out perfectly.  While the romance between them is captivating I really loved the whole idea of the Hell on Wheels event and its little makeshift community.  Everything from the period clothing to the friendly competition makes it seem like an experience you'd want to attend annually.   MAVERICK has everything you'd expect in a good read – plenty of suspense, romance, loveable characters, friendship, family, and of course a feel good storyline that makes you want to bring the characters to life so you can hang out with them.
As I already said, I have not read the first two books in the TAGGART BROTHERS series but I've just finished ordering DESPERADO and RENEGADE so should have that situation remedied very soon.
TAGGART BROTHERS novels:
DESPERADO
RENEGADE
MAVERICK