Maybe for You: A Whiskey and Weddings Novel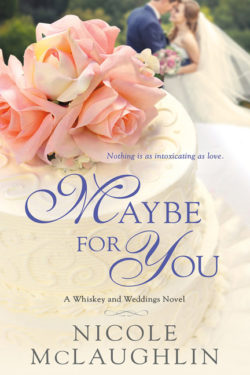 Author

Nicole McLaughlin

Release Date

August 28, 2018

Publisher

St Martin's Press

ISBN/ASIN

9781250140029

Our Rating

Reviewed by

Jo
Our Review
MAYBE FOR YOU is the third book in the WHISKEY AND WEDDINGS series. I have not read the first two books, MAYBE I DO and MAYBE THIS TIME, but I plan to do so to get some of the background information for this story.
Alexis has suffered many tragedies in her life—the loss of her parents when she was a teen and more recently, her fiance, who died in combat overseas when they were both deployed. She comes home, a shell of herself, hoping to heal at her brother's house. Though close, Alexis has relied on one of his best friends to talk to, dealing with the tragedies.
Jake is considered commitment phobic and a ladies' man, always out for a good time.  When others find out about his friendship with Alexis, they're surprised by the connection. Alex tells them to deal with it.
While she is between jobs, her new one will be with the CIA in Virginia, and she and Jake continue their friendship. She decides to go on a road trip with him. Things get interesting because they connect and seem to understand each other. When they take their relationship to the next level, both Alex and Jake are taken by surprise.
Jake has a depth to him that others, even his family, don't realize. He seems to get belittled at every turn and has a hard time with his self-esteem. He always has a quick comeback or joke since he doesn't want others to see him hurting. Alex has her own issues to deal with but continues to try and support Jake when he needs it, since he does the same for her.
There are a lot of twists and turns in this story filled with family and friends. I like the way Alex's almost in-laws were presented. This is an emotional tale filled with some steamy scenes as well. The journal Alex keeps is a nice touch. There are some choppy patches, but most of the book flows smoothly. There is some closure along with several happily ever afters, but the story didn't go far enough for me and left some loose ends, even with the epilogue.
Ms. McLaughlin is a new-to-me author having only read WIN ME OVER (HEARTS AND CRAFTS #2) that she wrote as Nicole Michaels. I look forward to reading more of her books.