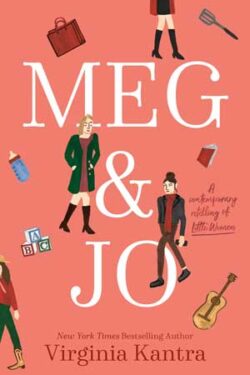 Author

Virginia Kantra

Release Date

December 3, 2019

Publisher

‎ Berkley

ISBN/ASIN

‎0593100344

Our Rating

Reviewed by

book lover
Our Review
MEG & JO by Virginia Kantra is book one in the March Sisters Series. It is a modern day version of the classic Little Women.
Book 1 centers on Meg, the oldest and responsible sister who's married with twin toddlers, and independent Jo who moved to New York City to pursue her career in journalism. When Jo's laid off from the newspaper, she goes to work as a prep cook and secret food blogger.
On the surface, Meg has the life she dreamed of—a handsome husband, children, and the white picket fence. But her perfect life and marriage have cracks in them. Jo, on the other hand, has avoided relationships until she fall for her boss, Eric. But their relationship falls apart when the secrets she's been keeping tear them apart.
This is a story about sisters, family, chasing your dreams, and finding love. It was a good read, but there were times I kept thinking, why didn't Meg and Jo just tell the men in their lives what they wanted and needed? While I found that frustrating at times, it was still a good read that I would recommend.