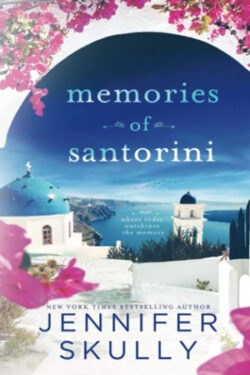 Author

Jennifer Skully

Release Date

June 22, 2022

Publisher

Redwood Valley Publishing

ISBN/ASIN

B0B22SW3H4

Our Rating

Reviewed by

book lover
Our Review
MEMORIES OF SANTORINI is book 6 in the Once Again series by Jennifer Skully.
If you love exotic locales, this book has it all—the magic of the Greek Isle of Santorini, the Aegean Sea, and tiny towns built into the cliff with bougainvillea climbing the walls.
Angela Walker returns to Santorini thirty years after her first trip where she fell in love with Xandros Daskalakis. Those three weeks changed her life forever when she came home pregnant with his child, but instead of returning to tell him, she married another man. 
Now Angela's returned to Santorini with her daughter and meets up with Xandros again. They rekindle their love, but the lie that Angela has kept for the last thirty years is about to destroy her future with Xandros.
The love story between Angela and Xandros kept me turning the pages and up late reading it. I highly recommend this book!
Recommended Read