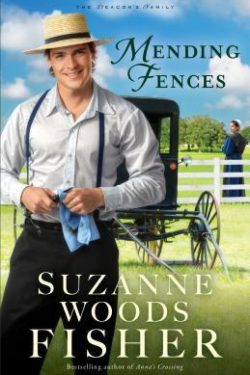 Author

Suzanne Woods Fisher

Release Date

February 5, 2019

Publisher

Revell

ISBN/ASIN

9780800727512/B07FH6XVF8

Our Rating

Reviewed by

Michele Rioli
Our Review
Suzanne Woods Fisher's talent shines in this brilliant story of restitution in MENDING FENCES. It stars a handsome guy, Luke Schrock, a recovering alcoholic and a mischievous smartypants. He is discharged from a local rehab center and returns to his hometown, Stoney Ridge, upon advice from his counselor. He boards at Windmill Farm, owned by Amos and Fern Lapp. His counselor, David, impressed upon him that during his stay he must make amends to each individual on his list that he pranked early in life and ask if there were any repercussions from his actions. Will Luke gain intriguing insight from each earnest encounter? Does it make him a better man?
Coincidentally, a pretty girl named Izzy Miller lives at Windmill Farm too. Izzy has her own problems. She is a foster child who developed street smarts growing up. Amos and Fern are very protective of her and Luke must stay in the barn while he is there. Luke tries his best to charm her but his reputation precedes him to town. She is strongly suspicious of him and his intentions. Oh boy, it will be a grueling uphill battle for Luke convincing the residents in town that he is making peace. Will Luke conquer his fears through the grace of the Amish in Stoney Ridge?
MENDING FENCES delivers a powerful message about relationships and amendments. Amos and Fern Lapp offer wise advice, stern admonishment and much needed unconditional, patient love to Luke and Izzy who are adrift in life, two lost souls, in need of direction and compassion. When Luke and Izzy's shaky family foundations toppled and sent them out into the world without guidance, they made many mistakes. They learn with help from the God-fearing, compassionate Amish community and their forgiving souls. Although, Luke needs to reestablish faith with the people he offended first.
Ms. Fisher delivers a beautiful testimony of Amish beliefs and values, with an in-depth look at Plain life and how it impacts Luke and Izzy. The author includes wonderful mentors, Amos and Fern, plus Luke's counselor, David. There are many intriguing characters and sub-plots that enrich the overall, endearing story. The plot is intense in spots and at times humbling. It is simply an awesome story that moved me to tears. The ending is fantastic with many shocking surprises! MENDING FENCES is incredibly insightful and tenderly touching. A three Kleenex story!