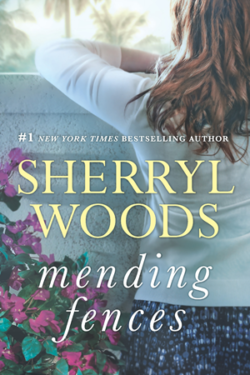 Author

Sherryl Woods

Release Date

September 27, 2016

Publisher

Mira Books

ISBN/ASIN

9780778319771

Our Rating

Reviewed by

Jo
Our Review
Sherryl Woods is one of my favorite authors and MENDING FENCES is a reissue of a book first released in 2007.  Somehow this book was never on my radar but luckily that's been rectified.  I look forward to reading many more books by Woods.
MENDING FENCES has a lot of darkness to it – date rape, bullying, divorce and family and friends torn apart.  The story is mainly told in the present but there are times when the book goes back to the past.  It was an interesting way to tell the story.
Two families become friends when Marcie, Ken and their two children, Evan and Caitlyn move next door to Emily, Derek, Josh and Dani all except the dads who tolerate each other to keep the peace when the families get together.  Ken bullies his wife by demeaning her every chance he gets and his teenage son is learning to treat his mom that way too.  Marcie overcompensates by being the best at everything she does and does it all quietly so as not to draw attention to herself at home.  When Evan is arrested for raping a girl on his campus after a date things get ugly.  Ken is someone I wouldn't want to be around let alone be his neighbor.  So much of what he does and says is creepy and Evan still has his swagger thinking his dad will save the day.  Watching the families come to grips with the accusations and his arrest take its toll especially when there are still secrets being kept.  As the dynamics of the families change little by little there are cracks and other consequences to each of their family units.
There are family and friends, anger, tears, hurt, disbelief, arguments, a crime to solve, heartache, secrets held and revealed, lots of food, reminisces, laughter, happiness, family activities, romance and love.  There are twists and turns to the story that held my interest except a few times when the outcome was predictable. MENDING FENCES was a quick paced read that had closure and a hint at a possible happily ever after.  An epilogue would have been a nice touch.