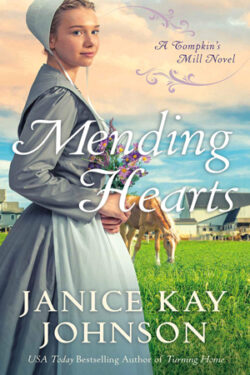 Author

Janice Kay Johnson

Release Date

February 23, 2021

Publisher

Berkley Books

ISBN/ASIN

9780593197981

Our Rating

Reviewed by

Jo
Our Review
MENDING HEARTS returns us to the small town of Tompkin's Mill, Missouri, for the second book in the series. This is David and Miriam's story, but it's nice to be reunited with characters we've met before.
David and Miriam have a hard time communicating, and they seem to take one step forward and two or three back. They both often misconstrue what the other is thinking and feeling. There are secrets between them, and David has to be forgiven and accepted back into the Amish faith after he returns from being away for six years. He's done things in the past he wasn't proud of and needs to reconcile himself to being a better person.
Once again, the Amish faith, God, and family are the focus of the characters' lives. The story is filled with family and friends, prayers and Bible passages. Their sense of community and helpfulness is both uplifting and emotionally rewarding. The characters have depth and the story flows well. All in all, the book does a wonderful job of incorporating love into a world centered on faith and community. A lovely book that continues the Tompkin's Mill series.