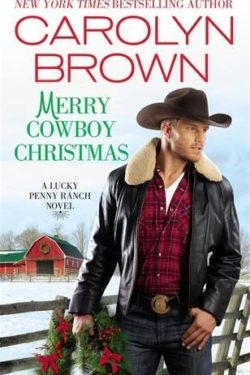 Author

Carolyn Brown

Release Date

September 27, 2016

Publisher

Forever

ISBN/ASIN

1455534943

Our Rating

Reviewed by

Dottie
Our Review
When Fiona Logan left Dry Creek and her home, known as Audrey's Place, she swore she'd never come back for anything more than a visit. After college, she joined a law firm in Houston and one year later, she married the son of the firm's senior partner. Everything seemed to be going her way, but then a year ago, her philandering husband divorced her, and their pre-nup guaranteed she received little from their time together. He also made sure to ruin her name career-wise. So, until recently, she has been working in a coffee shop and barely getting by, unbeknownst to her family. Now, she has returned home to Dry Creek in time for Thanksgiving. Just short of reaching her childhood home, she slides and crashes into a tree. At dinner that evening she is astonished to discover that the good looking stranger who came to her snowy rescue is living right across the hall from her.
Jud Dawson is partners with his two cousins in the Lucky Penny Ranch. However, his cousins have each found their soul mates and married, so things are not quite as he imagined when they had all purchased the ranch as bachelors. Staying at Audrey's Place, Jud is in constant contact with Fiona, a woman who is everything he's ever wanted. Soon it becomes a habit to share a little time together as the day draws to an end. Despite the chemistry between them, Fiona has made it plain that she intends to leave at some point. Will it take a Christmas miracle to get her to admit that she loves him as much as he loves her? Can he convince her to stay in Dry Creek and have a future with him?
An inspiring tale, MERRY COWBOY CHRISTMAS, the third book in author Carolyn Brown's LUCKY PENNY RANCH series, is a witty, heartwarming contemporary western romance that is perfect for the holidays and all year long. The sexy interaction between Jud and Fiona will leave you laughing out loud at times. They are friends from the first time they meet and the chemistry between them is undeniable, so it doesn't take long for things to turn heated. Those familiar with the series will also enjoy being updated on Fiona's two sisters and their husbands, who are brothers and part owners of the Lucky Penny Ranch with Jud. In fitting with the holiday, Fiona's mother Katy shows that she practices what she has taught her daughters all along , to "Love thy neighbor", by taking in a couple, who have been her family's worst critics, when the couple's home burns down. Fans of this series may even have come to detest this grumpy, persnickety couple, but seeing them after Katy takes them in may make some believe that they were merely misunderstood. Their change of heart and attitude when they experience love from the Logans and the Dawsons is sure to touch even the hardest heart and humor can be found where it is least expected.
With plenty of sass, hunky cowboys, small town dynamics, family loyalty, passion, romance, love and an uplifting plot, this story is one you won't want to miss. I am a huge fan of Ms. Brown's work and hate to reach the end of one of her stories. This one was no exception. For an entertaining read that combines sweetness and a hint of naughtiness while providing both laughter and tears, look no further than Carolyn Brown. She turns storytelling into an art form. Treat yourself to a copy of MERRY COWBOY CHRISTMAS and settle in for a bit of magic! Definitely a Recommended Read!!