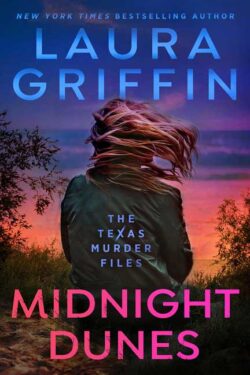 Author

Laura Griffin

Release Date

May 24, 2022

Publisher

Berkley

ISBN/ASIN

9780593197387

Our Rating

Reviewed by

SJ
Our Review
In MIDNIGHT DUNES, the newest romantic thriller from NYT bestseller Laura Griffin, a woman's body is found in the dunes during tourist season, and a filmmaker helps the local police solve a murder. The suspense is topnotch. The mystery keeps you guessing until the very end, but the romance lacked some, as we never really got to know the hero as well as the heroine. Yet the story is engaging and moves at a fast pace, keeping you turning the pages.
Macey Burns has quit her job as a television reporter due to an unfortunate scandal and has reinvented herself as a documentary filmmaker. The last thing she expects to find at her new job is a dead body.
Detective Owen Brada is good at his job and under a lot of pressure to solve this shocking murder. His attraction to Macey is unexpected, especially because she's not only beautiful and smart, but helpful on this case. And he wants to protect her from the violence he's afraid will escalate. As the clues build, new suspects keep presenting themselves. But when the real murderer comes to light, it might be too late for Macey and Owen to build any kind of future.
A page-turning thriller long on danger and intrigue if a little short on romance, MIDNIGHT DUNES is sure to keep you guessing as you read this gem in one sitting.