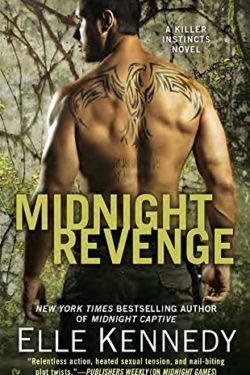 Author

Elle Kennedy

Release Date

February 2, 2016

Publisher

Signet

ISBN/ASIN

0451474430

Our Rating

Reviewed by

Raonaid
Our Review
Derek "D" Pratt is a merciless and hard-hearted black op mercenary. Dr. Sofia Amaro is the sole physician who runs a clinic in an isolated area of Mexico. Will Sofia be able to fix the broken operative? Can Derek keep the stubborn doctor safe?
Derek "D" Pratt is one of the best black ops operatives for hire. He is renowned for being cold-hearted and ruthless. Derek allows no one to get close, especially the head-strong and bossy physician who treats him and his teammates. He gives in to his sexual needs with Sofia Amaro, knowing it is wrong to dally with one of his boss's hired doctors. Then Derek's past returns to bite him in the behind. He willing revisits his tempestuous past in order to rescue one of his fellow black op comrades. The mission goes AWOL when Sofia appears on his doorstep and drops a major bombshell. Derek scrambles to keep Sofia safe when his trouble sweeps her up in its maelstrom.
Dr. Sofia Amaro operates a small clinic in a remote part of Mexico. She often doctors the black op mercenaries her benefactor sends to be patched up quickly. In a moment of weakness, Sofia gives into her baser needs and sleeps with the stand-offish Derek Pratt. When she learns of her pregnancy, Sofia searches high-and-low for Derek to give him the news in person. Unwittingly, she hampers Derek's complicated mission and gets swept up in the danger. Sofia knows, to stay alive for her baby's sake, she must follow Derek's strict instruction. As she and Derek try to escape a hostile situation, Sofia learns about the inner workings of the man who fathered her child.
I was a little iffy about Derek. He came off as too crude and rude for my tastes. However, my opinion of Derek changed once the horror of his childhood got revealed towards the middle of the story. My heart broke from reading about all he endured. I understood why Derek became so closed off and cold, unable to trust anyone with his back. He is the total wounded type that I prefer. I love how despite his stand-offish demeanor, Derek cannot leave a fellow comrade to suffer in his place. I admire his willingness to revisit the past to rescue that comrade.
I thought, at first, Sofia was getting the raw end of the deal where partners were concerned. She has all the qualities I prefer in heroines. Sofia is strong-willed but equally vulnerable at times. I love her tenacious daring to square off with anyone willing to harm any of her patients' health. I admire Sofia's sense of rightness by wanting to tell Derek in person about her pregnancy. Sofia continued to impress me by how she dealt with Derek's detachment. She did not take it personal once she learned of why he behaved as he did.
MIDNIGHT REVENGE is book seven in Elle Kennedy's romantic suspense series, A KILLER INSTINCTS. I have not read the previous six books; however, the author glosses over the vital parts of the past books to make it easier to follow the story. MIDNIGHT REVENGE can easily stand on its own.
MIDNIGHT REVENGE is a spicy, on-the-edge-of-your-seat romance that proves that even the most wounded of souls can overcome their past and find happiness. Elle Kennedy is a new-to-me author, and once I got into the story, I quickly became absorbed in the plot and characters.