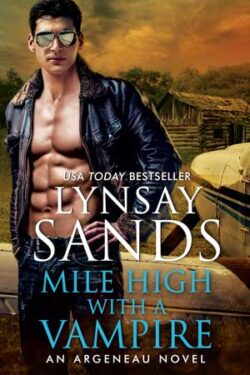 Author

Lynsay Sands

Release Date

September 28, 2021

Publisher

Avon

ISBN/ASIN

B08RZ3MP1C

Our Rating

Reviewed by

BPoston
Our Review
MILE HIGH WITH A VAMPIRE is the 33rd novel in the Argeneau Series yet can be read as a stand-alone. Full of excitement, drama, action, adventure, and more than a few laughs, this is one vampire romance not to be missed!
Quinn Peters is an immortal (not a vampire). She was turned into an immortal against her will, and even after several years, she is struggling to accept what has happened. She was a renowned surgeon and had to give up her practice because as an immortal, she will never age and only a handful of doctors practice her specialty. She is heartbroken.
Jet Lassiter is a mortal working for the Argeneau family. He flies the company, transporting immortals from one place to another. He has seen Quinn many times and thinks she's drop-dead gorgeous. But in his eyes, she is a vampire who drinks blood. He can't reconcile that fact with his attraction, so he keeps his distance.
What was supposed to be a routine flight turns into a crash with some deaths and serious injuries to some of the immortals. Without blood, they cannot heal and will develop bloodlust—resulting in them attacking every human they come across. Quinn and Jet survive the crash. Quinn knows he's in danger from being attacked and flees with him into the jungle to find help and to keep him safe. From here, the action really ramps up.
Can Quinn keep Jet safe? Why did the plane crash? Will they be found? Answering these questions results in them discovering that the plane crash was not an accident but instead, a deliberate attempt to kill Quinn. And that Quinn and Jet might have a deeper connection than they thought.
I love this series, and MILE HIGH WITH A VAMPIRE did not disappoint. A terrific fall read!
Recommended Read