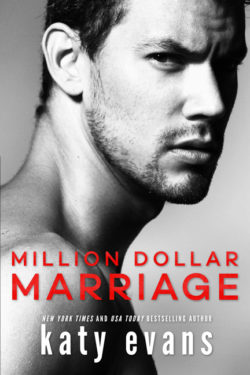 Author

Katy Evans

Release Date

July 23, 2019

Publisher

Montlake Romance

ISBN/ASIN

9781542007252

Our Rating

Reviewed by

Jo
Our Review
MILLION DOLLAR MARRIAGE is the second book in the MILLION DOLLAR series, and I'd love to see more. The book was playful, engaging, had laugh-out-loud moments, and a lot of heat! (I didn't, however, care for the swearing, which I didn't think enhanced the story.) It was nice to reunite with Luke and his friends, Jimmy and Elizabeth, whom we met in MILLION DOLLAR DEVIL, the first book in the series. Each book can be a stand alone. 
The story begins in Atlanta where Nell, or Penny as Luke calls her, has just completed her PhD in comparative literature and has a mountain of debt for all her degrees. Luke is the owner of the bar his grandfather owned when he was alive, but Luke could lose it due to lots of mortgages he didn't know his grandfather took out. He also pays for his grandmother to stay at a nice nursing home after she suffered strokes.
Nell and Luke don't know each other, but both decide to attend the auditions for Million Dollar Marriage, which turns out to be similar to the reality show, The Amazing Race.  When it's finally their turn to individually go in, both Nell and Luke are chosen as one of fifty contestants, and then the fun begins!  
Luke is competitive but a team player, and I love the way Luke and Penny work together doing their stunts and getting from place to place. He helps draw her out of her shell, and she understands him. Given their histories and their current lives, they shouldn't get along or have chemistry, but they do, and it gets much more intense. It was fun to see the places they went, the challenges they had to complete, and how they managed to succeed. The descriptions of the locations and the competitions were vivid and well-rounded. There were twists and turns to the story and a wonderfully achieved happily ever after that we learned about in the epilogue. I enjoyed the confessionals from both Nell and Luke, and that each chapter had a title. The cover was spot on!
I have read Ms. Evans's first two books in this series and liked them. I do hope to read more of her stories but hope the unnecessary cursing is toned down.