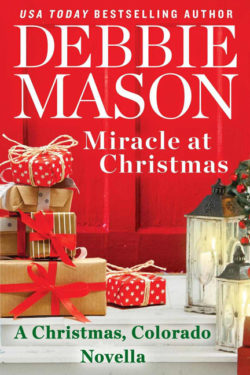 Author

Debbie Mason

Release Date

December 19, 2017

Publisher

Forever Yours

ISBN/ASIN

9781538746318

Our Rating

Reviewed by

Jo
Our Review
MIRACLE AT CHRISTMAS is a quick-paced novella with a lot packed into it in the CHRISTMAS, COLORADO SERIES at only ninety-four pages. I was immersed in the story immediately, taken from New York City to Christmas, Colorado and back again. This is the first book I've read in this series, but it won't be my last. There was enough information given about past events that I didn't feel lost.
There were fun and quirky characters as well as those without a heart–like Jeremy and Samantha, among others. The characters didn't have a lot of depth, but they definitely had backgrounds and baggage that we needed to learn about. The story flowed smoothly despite having a lot of twists and turns. The different stories going on at the same time were ultimately woven together seamlessly.
MIRACLE AT CHRISTMAS had the magic of Christmas, Santas and their elves, and children. There were laugh-out-loud moments along with some more angst-ridden, emotional ones. There's a potential for a happily-ever-after that I hope we learn more about in the next book in the series.
Mason is a new-to-me author. I look forward to reading more of her books in this series as well as those in her HARMONY HARBOR SERIES.