Miracle on 5th Avenue by Sarah Morgan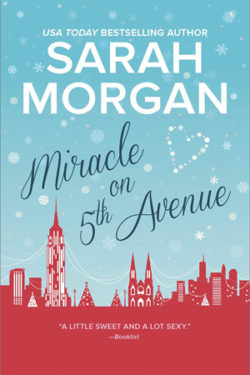 Author

Sarah Morgan

Release Date

November 29, 2016

Publisher

Harlequin (US & Canada)

ISBN/ASIN

9780373789344

Our Rating

Reviewed by

Josephine Carzo
Our Review
MIRACLE ON 5TH AVENUE is the third book in Susan Morgan's From Manhattan with Love series. In this book, Eva Jordan is dealing with the near-debilitating grief of losing her grandmother, yet she's trying desperately not to let it impact her optimistic outlook on life. After agreeing to spend a few days decorating famous crime writer Lucas Blade's house, she is surprised to find him home, hiding away from his family and his editor. Lucas is dealing with a serious case of writer's block, brought on by the grief he feels after losing his wife several years ago. The last thing he wants is sunny Eva staying in his home.
When a snowstorm leaves them housebound, they strike a deal which sees these two opposites stuck together. Their forced proximity opens a world neither was expecting, and they find their grief is easier to deal with together. MIRACLE ON 5TH AVENUE delves into their lives, their losses, and their burgeoning relationship, weaving a romantic Christmas story that will have you cheering for these two to end up together.
Without spoiling some of the finer details of this book, I have to tell you all to get out there and read it for yourselves. I went into this book completely unsure I would like it. I was worried I'd be dealing with a case of instalove, and that these glaring opposites stuck in a house together would drive me crazy. Needless to say, I was totally surprised – and wrong.
Sarah Morgan has delivered a well-rounded and believable relationship using some tried-and-true tropes, without leaving me feeling as though I'd read this story before. It was full of banter-y goodness (So. Good.), smoking hot chemistry, and two people that clearly needed a little something different in their lives.
I was so engaged by the personalities Sarah Morgan created, and the twists and turns in their developing relationship that I couldn't put this book down. And when I did put it down, it was only to go online and immediately pre-order a copy for my keeper shelf. I also went back and bought the first two books in the series because I had to see how Eva's friends got their HEA's too!
RJ RECOMMENDED READ