Miss Bradshaw's Bought Betrothal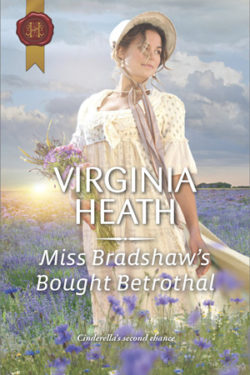 Author

Virginia Heath

Release Date

February 1, 2016

Publisher

Harlequin Historical

ISBN/ASIN

9781488021121

Our Rating

Reviewed by

Jo
Our Review
MISS BRADSHAW'S BOUGHT BETROTHAL is set in England in the early 1800's and is a take on the Cinderella fairy-tale, including the evil stepmother and sisters and the unexpected Prince Charming. Miss Bradshaw, also known as Evelyn or Evie, has the part of Cinderella down pat. She is such a doormat for her family and can't stand up for herself at all. Luckily, her Great Aunt Winnie has her best interests at heart since no one else seems to. It's them against the world, or at least against her stepmother, Hyacinth, and stepsisters, Iris and Rose.
Evie has to get away from her father's second family after he dies. He left her all his belongings and money, except for an amount bequeathed to his widow. He never stood up to his wife or her daughters no matter how mean they were to Evie. It didn't help that her stepmother dressed her horribly, didn't let her have a season since there wasn't enough money to give her daughters a season and Evie too, made her do the chores and they all lived off her inheritance–not what Hyacinth had received from her first husband or Evie's dad.
When Evie makes a deal with the devil, Fergus, to run away with him and become his wife, she doesn't look at all the ramifications of his "help" and that she's going to become his bank. Enter his twin, Finn, whom she gets foisted on in the country, and things really get interesting. The chemistry between her and Finn is spontaneous and combustible. She feels nothing for Fergus like she feels for Finn, but since she's naive, she isn't really sure if hers and Finn's feelings are real. She and Finn are good for each other and understand each other when others don't seem to.
There are a lot of dark feelings involved, since Finn is a widow who never got over his wife's death–or was it a suicide? He isn't really living, even though she's been dead three years. Evie has her own issues with her family and Fergus that she has to contend with.
Evie is like a breath of fresh air to Finn, but there are a lot of things about her circumstances that he's not happy about. The emotions brought out in both Finn and Evie run the gamut, and we see how good they each are for the other.
The book was filled with family, estrangements, London, and the countryside. There are scandals and  secrets, leading to anger, fear, and confusion. But Heath gives the characters a loving ending. There were some unexpected steamy scenes and a happily ever after in the offing, but an epilogue would have been a nice touch. The story ended too abruptly for me, and the very end of the book didn't seem to belong.
Heath's books will always be added to my always growing TBR pile since I enjoy her stories set in Regency England–one of my favorite time periods. I'd like to meet up with some of her characters again, maybe in a novella or two to get the closure I need and see how the characters fare.