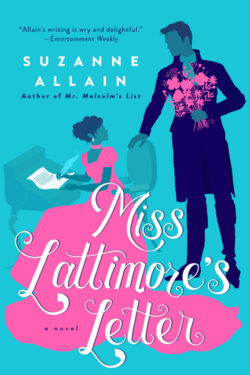 Author

Suzanne Allain

Release Date

August 10, 2021

Publisher

Berkley

ISBN/ASIN

9780593197424

Our Rating

Reviewed by

Jo
Our Review
A quick historical read with a romcom bent, MISS LATTIMORE'S LETTER has a nice flow and a lot of quirky characters that make for a delightful story.
Miss Lattimore, or Sophie, was taken in by her uncle's family after her parents died. She never felt like their house was her home, and she's more a companion for her younger cousin, Cecilia, who is only eighteen and not sure who to wed. Sophie tries to guide her but also thinks her cousin shouldn't rush into a match if she's not sure.
Sophie's resigned to being a spinster and puts herself in the role of matchmaker for those in high society by writing an anonymous letter to a lord. Everyone knows Sophie's the writer of the letter, although she had only confided in a few. She's now not only sought after by others to help with their love lives, and is even asked to dance—something that never happens!
The story takes place in London, Bath, and the countryside. We get to see the ton both at their finest and not at their best. Several suitors turn up for Sophie: a widower she knew years ago who had hurt her very badly and Sir Edmund, who has his own secrets. But do these men want Sophie for herself or to find them a match?
What struck me as interesting is that we're only shown the letter in full at the end of the story, when the letter is the entire basis of the story. MISS LATTIMORE'S LETTER is an entertaining romp through historical London, with plenty of romance, humor, and banter that make this a worthwhile read.