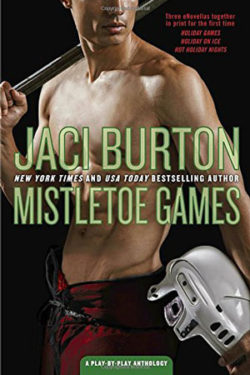 Author

Jaci Burton

Release Date

October 18, 2016

Publisher

Berkley

ISBN/ASIN

B01BS7N7GW

Our Rating

Reviewed by

B Poston
Our Review
MISTLETOE GAMES by Jaci Burton is a book containing three holiday stories that are a perfect read to warm you up on a cold winter night.
HOLIDAY GAMES is the story of Elizabeth and Gavin. Elizabeth has a demanding job as a sports agent. Gavin is a major league baseball player. After being married for a couple of years, they have decided they want to expand their family, but things are not working out the way they thought it would. They thought trying to make a baby, while fun, would be easy. But sometimes things just don't happen as quickly as you want them to. With the stress of family and the holidays, will they get their Christmas wish?
HOLIDAY ON ICE brings Trick Niemeyer and Stella Stovinski together again. They had a casual relationship a while ago, but since meeting up again, they realize their attraction is stronger than ever, which causes fear in them both. Trick has never wanted to commit himself to any woman. Being a professional hockey player, he doesn't believe he has the time to devote to a relationship. Stella was badly hurt years ago by a man who expected her to quit her career so they could follow his. She has worked hard to become a professional Broadway dancer and is afraid the same thing will happen again if Trick is traded to another team. Will both be able to realize that their love is strong enough to overcome any obstacle put in its way?
HOT HOLIDAY NIGHTS takes Tori Baldwin to Hawaii to relax over Christmas. While there, she meets Alex, a professional surfer who takes her breath away. Their attraction is immediate and hot. However, when his business manager and sponsor Ben arrives, things get complicated very quickly. Both men are so different, but they both drive her wild. Does she have to choose between them, or will she decide she will risk everything to have them both?
Jaci Burton writes incredibly hot romances. Her characters are fun and stories enjoyable. MISTLETOE GAMES is a great read when you want something quick, but it's also very satisfying.