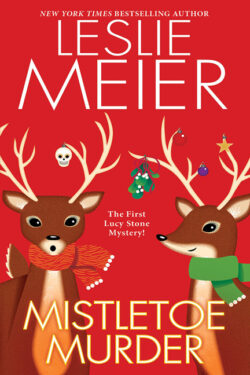 Author

Leslie Meier

Release Date

July 12, 2021

Publisher

Kensington Books

ISBN/ASIN

B008J4N8QM

Our Rating

Reviewed by

book lover
Our Review
MISTLETOE MURDER by Leslie Meier is a cozy Christmas mystery.
Sam Miller, the owner of Country Cousins—where amateur sleuth Lucy Stone works the night shift—is dead. When Lucy takes a break and goes outside for some fresh air, she finds Sam in the parking lot in his car, dead of an apparent suicide. As the investigation progresses, Lucy learns Sam was murdered.
There is plenty of Christmas spirit as Lucy prepares for the holidays with her husband, Bill, and their three children. A sweet, loving relationship with Bill adds to this holiday feel-good read.
I enjoyed this book, but the unexplained killing of her cat and another dog kept this from being a four-star read. 
I still enjoyed the book. MISTLETOE MURDER is a sweet holiday read with a mystery Lucy solves for a satisfying ending.