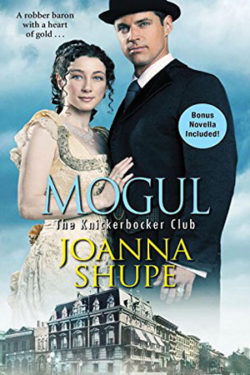 Author

Joanna Shupe

Release Date

January 31, 2017

Publisher

Zebra

ISBN/ASIN

1420139886

Our Rating

Reviewed by

Rhea
Our Review
In MOGUL by Joanna Shupe, Lillian Davies, daughter of railroad mogul, Warren Davies, is desperate. Which is why she finds herself in an opium den, frantically looking for her ex-husband, Calvin Cabot. Calvin was the biggest mistake in her life, but he is her only hope in finding her brother. She feels that she has long gotten over Calvin's betrayal, but he was the one man who would be able to help her.
Calvin Cabot is a self-made newspaper owner, driven by a life of poverty, driven by the overpowering urge to forget his brief marriage to the rich Lillian Davies. Calvin was living his own life and did not need the complications that Lillian Davis was sure to bring.
Calvin and Lillian are driven together by a series of unfortunate events, and the erotic passion that drove them to the altar the first time is sizzling again. Powerless to stop it, but knowing that more than just Lillian's brother's life is at stake, Calvin is determined to finish his mission and find Lillian's brother, rid himself of her, and fulfill the promise he made to his long-time friend. Simple.
Joanna Shupe has crafted a story that will keep you turning the pages until you reach the end. Calvin is a complicated character, but Shupe reveals his layers one chapter at a time until you fall completely in love with him. Lillian Davies is a strong woman, a leader in a time when women were relegated to the house. Both characters help to create a historical narrative that delves into the nasty world of the enactment of the Chinese Exclusion Act. The love story drives you to the end. The history educates you on how the United States governed back in the days of railroad tycoons. This is a story you don't want to miss.
RECOMMENDED READ