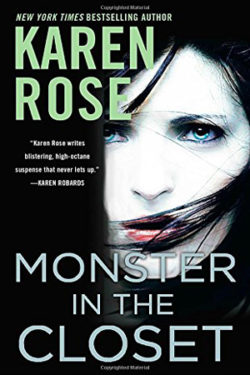 Author

Karen Rose

Release Date

August 29, 2017

Publisher

Berkley

ISBN/ASIN

978-0399586767

Our Rating

Reviewed by

BPoston
Our Review
In Karen Rose's MONSTERS IN THE CLOSET, Taylor Dawson grew up believing her biological father was a horrible monster who attacked her mother and wanted to kill her. She has been in hiding since she was a small child, but upon her mother's death, she learns that the story she grew up believing was untrue. Feeling betrayed, she searches for her father and finds out where he is. She wants to learn the truth.
Clay Maynard has been looking for his daughter Sienna for years. He only found out about her by accident but always wanted to be part of her life until his ex took off with her. What he didn't know was that his ex told everyone he was an abusive monster who hurt her and wanted to kill their daughter. Every time he has come close to finding Sienna, it has resulted in him following a false trail.  He is frustrated, angry, and heartbroken.
While working at the ranch, Taylor connects with two young girls who have suffered a major trauma, the brutal murder of their mother. The eldest, Jazzie, hasn't spoken since the event, and the police believe she might have witnessed what happened. Jazzie is afraid that if she says anything, the monster she saw kill her mother will come after her and her younger sister. However, she knows that if she says nothing, the monster will get away with killing her mother. She can't let that happen. Taylor seems to really care about her and her sister, so Jazzie thinks that she might be the one with whom she can share her secrets.
Ford Elkhart's mother owns Healing Hearts with Horses, the ranch where Taylor is working. Ford has heard how wonderful Taylor is with the kids she is working with and is more than a little curious about her. However, their first meeting doesn't go as planned. Nevertheless, he's instantly captivated and wants to get to know her better.
MONSTERS IN THE CLOSET is the story of Taylor, Ford, Clay, and Jazzie. There are all kinds of monsters in the world. Each of these characters has to face and deal with the different monsters who have impacted and changed their lives. I really enjoyed this book. Karen Rose has a way of keeping you on edge while leading you through an emotional roller coaster ride you are not always fully prepared for.  A great read by a great author.
A Recommended Read!