Montana Heat: Escape To You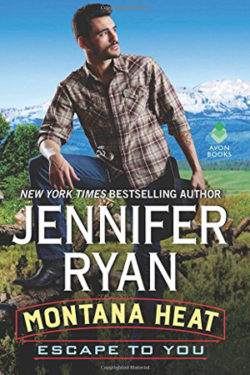 Author

Jennifer Ryan

Release Date

August 29, 2017

Publisher

Avon/Harper Collins

ISBN/ASIN

9780062645258

Our Rating

Reviewed by

Diana S
Our Review
Special Agent Beck "Trigger" Cooke is an undercover DEA agent and has been having some rough assignments. The most recent one left Beck shot and burned out after infiltrating a drug ring. Beck knows he is being hunted and decides to stay holed-up on his remote ranch in Montana named Hope Ranch. He needs to heal physically and mentally.
Ashley Swan is a small-town girl who fought her way into the Hollywood elite as an amazing actress.  A man she thought was a friend kidnaps her, holding her prisoner on his isolated ranch in Montana while he tortures her for a year. Knowing she won't live much longer, Ashley finds a way to escape with a little boy who is also a captive being abused. She runs out into a blizzard carrying the child for miles across the frozen terrain until she collapses. Beck finds her and the child on his land half frozen to death.
Beck takes them into his house to try and bring some life into their bodies with warmth and food. When Beck sees all the scars left on Ashley's body and how she is half starved to death, he vows to take care of her and find the sick person who did it to her.
As Beck and Ashley discover common ground and try to help each other leave their demons behind, they fall into a loving companionship that neither know how to take. Will spending time together build their confidence  for a good life together?
As both evil men in Beck and Ashley's past come together to recapture their quarries, it brings a lot of suspense into the tale. This story is one of darkest evil, where good people help bring the evil down. I had a tough time reading some of the more descriptive scenes about the abuse in this novel  but it all comes together at the end for the right people. This first book in a new series is definitely another win for a great author like Jennifer Ryan.  
A Recommended Read!