Moonlight Seduction: A de Vincent Novel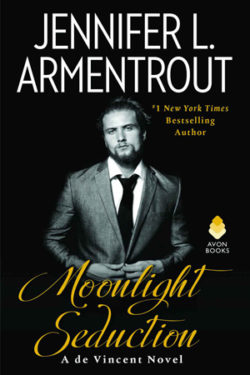 Author

Jennifer L. Armentrout

Release Date

June 26, 2018

Publisher

Avon

ISBN/ASIN

B073B1VC5H

Our Rating

Reviewed by

BPoston
Our Review
Nicolette (Nikki) Benson has returned to the de Vincent mansion to fill in for her mother as housekeeper while her mother recovers from a medical illness. Nikki's mother has been the housekeeper for the de Vincents since Nikki was a small child. Nikki always had a crush on Gabe de Vincent and, when she was a teen, they shared a night of passion she will never forget. However, she soon realized he was drunk and thought she was someone else. So when she could, she left for college with no intention of returning. Until her mother falls ill and needs her help.
Gabe de Vincent can't remember much of what happened the night he spent with Nikki.  He has always had a soft spot for her, but he never intended for things to get out of hand with her. Now she's back taking care of his family home, and he's at a loss as to what he should do. Maybe it would be better to just pretend nothing happened.
However, strange things are happening to Nikki. It appears that someone is trying to hurt her, and Gabe finds himself trying to keep her safe while also trying to figure out who wants her dead.  
The sparks between Gabe and Nikki are intense. I enjoyed following the clues trying to figure out what is happening and why. I was immediately hooked. MOONLIGHT SEDUCTION is a fun story and a great read.
Recommended Read