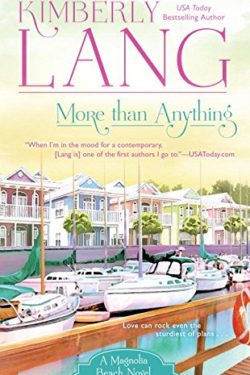 Author

Kimberly Lang

Release Date

December 6, 2016

Publisher

Berkley

ISBN/ASIN

9780451471055

Our Rating

Reviewed by

Dottie
Our Review
Shelby Tanner loves running the family business, Bay Breeze Marina, in the small, waterfront town of Magnolia Beach, Alabama, but getting called out of bed in the middle of the night to rescue a houseboat that has drifted offshore does not leave her in a good mood. She cannot deny that the boater is handsome, but who lives on a boat without knowing how to operate it?
Architect Declan Hyde is moving from Chicago to Miami, where he has a new job. But he does not start for another month and his apartment won't be ready until then. So, he cannot resist when a friend offers to let him live on his boat rent-free. After Chicago, Magnolia Beach should be a boring little town, but Declan has found some sweet inducements. Such as the southern charm and the gorgeous tomboy who came to his rescue after a few high school kids played a prank during the night by untying his boat from its mooring and letting it drift offshore.
With his time growing short in Magnolia Beach, Declan begins to realize that he is going to miss some things, like his time with Shelby. When his time is up, will he go on to Miami, or will he build a life in Magnolia Beach with the woman who steals his heart?
A charming tale, MORE THAN ANYTHING, the third book in USA Today bestselling author Kimberly Lang's MAGNOLIA BEACH series, is a fun, sexy contemporary romance that will keep readers entertained. Fans of this series will remember Shelby from the first book, SOMETHING TO PROVE. There is also the bonus of being able to see what the characters from the previous books have been up to. As the only girl in her family, Shelby must deal with the well-meaning, but overprotective, men and boys in her family. Up until Shelby rescued him, Declan kept to himself, but she convinces him to interact with the townspeople and this makes the town much more interesting for him. However, the biggest attraction for him is Shelby. Ms. Lang also takes on some difficult subjects, like Declan's dyslexia, with delicacy.
This story can be read as a standalone, but to gain more insight into the characters and the town of Magnolia Beach, I advise starting at the beginning and reading all the books in the series, including SOMETHING TO PROVE, the novella ONE LITTLE THING, then EVERYTHING AT LAST and finally MORE THAN ANYTHING. Small town dynamics, southern charm, heat-filled moments, interesting characters, humor, romance and love make this beautifully written story unforgettable. Readers will long for their next visit to Magnolia Beach!