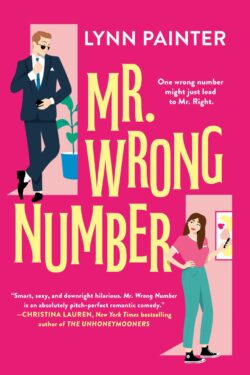 Author

Lynn Painter

Release Date

March 1, 2022

Publisher

Berkley

ISBN/ASIN

9780593437261/B097QRBQZ3

Our Rating

Reviewed by

Michele Rioli
Our Review
Looking for a light, fluffy, comical romance? MR. WRONG NUMBER is just the ticket with its cackling good times, irresistible banter, and wonderful romantic premise. Starring beautiful, irrepressible Olivia Marshall, who is known for her klutzy behavior. She receives an eye popping text message from an unknown number. Thus starts a string of sexy, silly texts between her and Mr. Wrong Number.
After a string of bad luck, Olivia needs new digs and her brother offers her a place to stay. However, her brother's best friend, perfectly hunkalicious Colin, lives there too. Olivia and Colin never got along. Colin always perceived her as the pesky little sister. Olivia agonizes over her messed up life, but when she receives a hot, entertaining text message from a mystery man, she thinks it's a good sign. Maybe romance is lurking around the corner. She is turned on and looks forward to their sexy chats. Will she find her romeo?
Colin is intrigued with Miss Misdial, the lady he accidentally texted. She sounds adventurous, amorous, and hilarious! Just his kind of lady. Then, Olivia moves in, making his life difficult. Colin hasn't seen her in years and his eyes pop, when he sees gorgeous Olivia. Then, later he learns she's the lovely Misdial, the lady he's been texting. Colin is seriously attracted to her. But, it's Olivia, his best friend's little sister. What is he going to do?
MR. WRONG NUMBER is a breezy, steamy, funny romance that will lift your spirits! The quirky plot of a text message gone wrong is hot as sin! The author peppers the plot with perfect repartee and steamy, messy situations. Colin has foot in mouth syndrome and Olivia is accident prone, a true recipe for disaster and much laughter. I absolutely adore Olivia and Colin's sizzling relationship that they try to hide. I haven't laughed this much, while reading a romance! Their attraction is wickedly delish and clearly perfect. The story is so good, I didn't want it to end! MR. WRONG NUMBER is one to treasure for your beach reading pleasure!