Murder on the Sugarland Express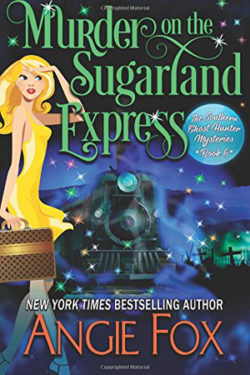 Author

Angie Fox

Release Date

November 25, 2017

Publisher

Moose Island Books

ISBN/ASIN

9781939661456

Our Rating

Reviewed by

Raonaid
Our Review
Ghost whisperer Verity Long desperately needs alone time with her hunky boyfriend, far away from over-dramatic ghosts and meddlesome family members. She jumps at the chance to accompany Ellis on a replica historical train's maiden voyage. History, especially on the Sugarland Express, intends on repeating itself. When a ghost's dire warning comes true, Verity must not only solve the current murder mystery but also an unresolved case. Can Verity solve the years old case on the first Sugarland Express? Or will she share the ghosts' same demise?
Sheriff Ellis Wydell wants to have a normal outing with his girlfriend. He invites her on a trip to escape his mother and younger brother's insufferable interfering. Ellis understands that ghosts are drawn to Verity. When a sequence of events follows the same pattern as the one on the original Sugarland Express, he wastes no time in helping Verity. Ellis investigates the current murder while leaving the unresolved case to Verity to solve with her ghostly contacts. Can Ellis protect Verity from the real-life threat haunting Sugarland Express?
I have always liked Ellis since SOUTHERN SPIRITS, book one in the series. I love how he plays a more active role in this story. Ellis is such an altruistic sweetheart, one who is unfortunately related to a conniving socialite mother and a shallow baby brother. Despite their many personality flaws, he still cares for them and wants to be a part of their lives. I adore how completely Ellis trusts Verity. But what I love the most about Ellis is his acceptance of Verity's supernatural ability. From their past experiences together, he has learned Verity's behavior whenever a spirit communicates with her and acts accordingly.
Verity has really come a long way, growth wise, since the start of the series. She handles her dual life, the living and the ghostly realm, with such upbeat aplomb and pluck. I like how Verity is no longer afraid to mention if an instance or circumstance is ghost related. I especially adore how coordinated she and Ellis work together on whatever mysteries fall into their laps. I am glad Verity finds a measure of mutual ground with not only her ex-fiancé Beau but also with his and Ellis's mother Virginia.
MURDER ON THE SUGARLAND EXPRESS is book six in Angie Fox's paranormal series, SOUTHERN GHOST HUNTER MYSTERIES. I love how Verity, Ellis, and Frankie have not just one mystery to solve but two, one in the living realm and the other on the ghostly plane. I also like Molly's positive influence on our troublemaking gangster ghost Frankie.
MURDER ON THE SUGARLAND EXPRESS is a fun new twist on murder mysteries with ghostly hijinks and interferences. I cannot wait to see what further mysteries are in store for our trio in the next installment.
A recommended read!