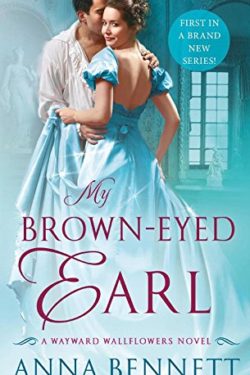 Author

Anna Bennett

Release Date

October 4, 2016

Publisher

St. Martin's Press

ISBN/ASIN

9781250100900

Our Rating

Reviewed by

Dottie
Our Review
Eight years ago, Margaret "Meg" Lacey and her sisters found a home with their uncle, Lord Whitmore, after the death of their parents. Although he would never let them know, they had been a burden on him and his dwindling fortune. Being presented to society has not helped his finances. But they have all failed to find a husband. Their uncle's eccentric behavior and their unfashionable wardrobe had led to the girls being dubbed Wilting Wallflowers during their first season.
Currently twenty-three years old, Meg decides to take a job as a governess to keep her uncle out of debtor's prison, even though she feels less than adequate to hold such a position. With her friend Charlotte's encouragement, Meg goes for an interview with a bachelor who is raising twin six-year-old girls. Unbeknownst to her, the bachelor is none other than Lord Castleton, the man her parents chose for her to marry and whom she subsequently rudely rejected. Things are definitely not looking up!
William "Will" Ryder, the Earl of Castleton's, life seems to be full of bad news. Between breaking up with his marriage-minded mistress, his mother pushing him to marry, his close cousin dying and then having his deceased cousin's twin daughters left with him so that they would not be left in an orphanage, leaves him at wits' end. Unaccustomed to children, Will is desperate for a governess to take them in hand. But he never expected the woman who rejected his one marriage proposal to apply for the position. If she thought marrying him was beneath her, how will she ever work for him? But his desperation and her easy rapport with the twins make him reconsider his objection to hiring her.
As Meg and Will meet and interact in the performance of her duties, their past fades away and desire takes over. But Will's mother has someone else in mind for him. Will he give into his mother's manipulations, or will he choose the woman he loves for his bride?
A charming tale, MY BROWN-EYED EARL, the first book in award winning author Anna Bennett's WAYWARD WALLFLOWERS series, is a witty, sexy historical romance and a delightful start to a promising series. Meg is the caring daughter of a vicar who puts her love for her uncle and sisters ahead of her own needs and blames herself for her parents' deaths. Since she lost them, she is no longer the spoiled girl she once was when she rejected Will. As for Will, he is seen by society as a rake who loves to drink, but there is more to him. His father ran the estate into the ground and now it is up to Will to fill the coffers once more. These two are well-matched. They are both strong characters who say what is on their minds. The depiction of the twins as two mischievous young girls who need love and direction is beautifully done. As the story unfolds, mystery ensues when someone starts asking questions about the two young girls.
This is an entertaining story. If you can suspend belief, in regards to how a debutante of this era can suddenly become a governess in the home of a rakish lord she once had a connection to without it resulting in scandal, you will enjoy it even more. Fans of historical romance may be familiar with Ms. Bennett's novels written under the pseudonym Anna Barton. Reading this novel increased my curiosity about Meg's sisters' futures. I look forward to Beth's story in I DARED THE DUKE, which is due to release in April 2017. Pick up a copy of MY BROWN-EYED EARL today and step into the imaginative world of Anna Bennett!