My Fair Duchess, A Dukes Behaving Badly Novel, Book 5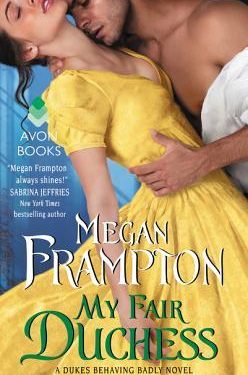 Author

Megan Frampton

Release Date

February 28, 2017

Publisher

Avon

ISBN/ASIN

978-0062412799/ B01GONFIUS

Our Rating

Reviewed by

Michele Rioli
Our Review
How do you tell a lowly temporary steward you have fallen in love with him? In MY FAIR DUCHESS a gorgeous lady named Genevieve recently becomes Duchess of Blakesley, her family estate, through a turn of events. It's undeniably revolutionary but it happened, all the same. Her governance of the estate is scrutinized by her relatives, hoping she will falter. Genevieve has no clue on the correct etiquette of a duchess or how to supervise business matters. Her upbringing was exclusively by servants, since her father conducted business in London without forethought to his daughter's education. He also left the property in financial ruins due to his freewheeling ways. Will Genevieve succeed or fail miserably?
Genevieve's Aunt Sophia sends her steward, Archibald Salisbury, son of a viscount and war hero, to help guide her in financial transactions and to teach her duchess etiquette. Oh my! Upon meeting Archie, Genevieve is breathless. He is so, so…exceptionally handsome! How can she focus on her duties when the very air trembles with his stunning charisma? Her thoughts stray to things she would rather do otherwise with him. Besides, Archie is falling under Genevieve's spell the more time he spends with her. What an impossible situation! Scintillating, that's what it is!
MY FAIR DUCHESS is a soaring, passionate love story in all its splendor. It stars a lowly steward, Archibald, and a beautiful duchess, Genevieve, who become tangled up romantically with one another. Genevieve unbelievably becomes duchess of her family's estate. There is a problem, she needs instruction in duchess duties and business affairs since her life lacked any social structure. When her aunt sends her own steward to assist her, problems arise. Namely, romance is in the air. Archibald Salisbury, admirably performs his duties and then some. The author weaves a beautiful Cinderella story of sorts that is evocative, insightful, heartwarming, including emotional honesty with descriptive passages. Wow! What an intense romantic love saga! I felt for Genevieve as she navigates her feelings for men in general, since she lives a sheltered life. The story is beautifully written and intelligently plotted. I just love Genevieve's plucky attitude and her incredible charm. This is a very smart, sexy read. MY FAIR DUCHESS is incredibly fascinating, delightfully refreshing, and spiced up with an illicit romance. This is one to treasure!