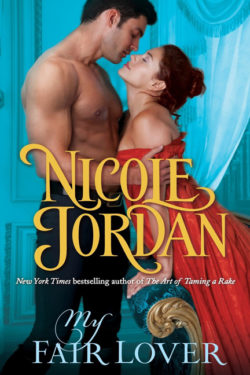 Author

Nicole Jordan

Release Date

August 29, 2017

Publisher

Ballantine Books

ISBN/ASIN

978-0-553-39257

Our Rating

Reviewed by

Diana Mcc
Our Review
MY FAIR LOVER by Nicole Jordan is a riveting historical romance. This is book 5 of the Legendary Lovers Series, but can be read as a standalone, which is how I read it.
This is the story of Lady Katherine Wilde and Brandon Deverill. Brandon is half English and half American. He fought for the American's during the war. After the war he was a privateer for a while. Six years later, he inherits an estate along with a title from his uncle, and returns to England to claim them, and to find a suitable wife.
Lady Katherine, Kate, knew Brandon when they were much younger. She had a terrible crush on him and offered herself to him. He refused not wanting to seduce an innocent beauty before leaving England to fight in the war. This crushed her heart.
Now six years later, Kate's Aunt Bella wants her to turn the rough privateer into a proper English Gentleman. Kate is known for her match making skills is asked to help find a suitable wife for Brandon.
Kate agrees, but only if Brandon will take her to France to look for the shipwreck that killed her parents. She wants closure and to place a headstone on her mother's grave. Her mother had been rescued by the towns people, but didn't survive.
All along Brandon has Kate in mind for his wife. He takes it slow as he knows he broke her heart when he left. There are steamy moments in this slow chase, hot steamy moments!
Brandon doesn't believe in love, and Kate will only marry for love. This puts them at odds till they are caught in a web of deceit and Brandon realizes he'd trade his life to save the women who has his heart.
There are some exciting moments when they enlist the help of a crooked pirate to find the sunken ship. The pirate and his girlfriend are great secondary characters, with their own set of problems.
This MY FAIR LOVER, is a wonderful, different story and captured my attention from the first page.